This appeared in my FB stream. Apart from the obvious chuckle it made me think of how things have changed.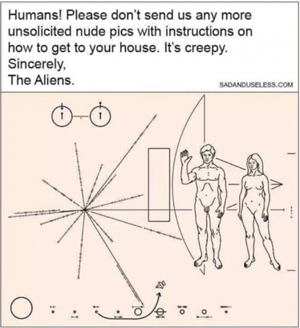 For those who don't remember this plaque is mounted on the Pioneer 10 space capsule that was launched in 1972. It is supposed to announce our presence to an awaiting Galaxy. The two figures are obviously white Caucasians. 
Having been reading the threads on here discussing the 'woke' generation I wonder what would they think about this  (what is woke? I think it stands for White O K Extremist, those who don't have enough problems in their lives and want to invent some more). This plaque is obviously not 'inclusive' but it happened in the past. What could be done about it or should it just be accepted? Should we launch another space mission with a correctly 'inclusive' plaque and an apology and hope that it is found by the same Aliens.