The IET Buckinghamshire Network organises events and visits for IET members living in the Unitary Authorities of Buckinghamshire Council & Milton Keynes and Slough and its immediate neighbourhood.
Our events and visits cover a wide range of engineering and technology topics for engineers and interested members of the public. Even if you are not a member of the IET, you are welcome to attend our events.
Key Topics & Themes
The most popular events are those based on the "three Ws" of Wheels, Wings & Wailways. However, that does not stop us from covering IT, Broadcasting, the Urban Infrastructure, and the History of Engineering.

Events
Our lectures are a mix of on-line and face-to-face events. The face-to-face events are held either in High Wycombe at the main campus of The Buckinghamshire New University, or at a venue in Aylesbury and also at a venue in Milton Keynes.
We are always looking for ideas and suggestions for events and visits. If there is something you wish us to organise, or want us to help you to organise, then please get in touch.
Visit the events page filtered by Buckinghamshire Local Network to find out about our upcoming events.
CPD certificates
Here is the certificate for the talk on Tuesday 7th November 2023; "Is ChatGP thinking?" given by Pete Rai of Cisco Systems, Inc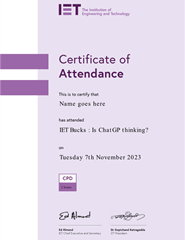 PDF
A blank standard 2022/23 IET certificate is shown below,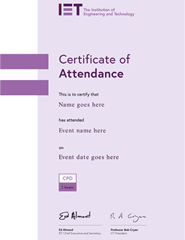 PDF
2023 volunteer committee

Local Network Prize
The IET Buckinghamshire student prize is awarded each year to a graduate of Buckinghamshire New University
The 2023 IET Buckinghamshire Local Network Prize was given in recognition of Karolina's outstanding academic performance during her MSc (Hons) Cyber Security degree at BUCKINGHAMSHIRE NEW UNIVERSITY
Karolina showed high commitment to her course with a proliferation of A & A* grades. As the Student Representative Karolina also demonstrated excellent leadership and communication skills
This photograph taken on Tuesday 25th July 2023, shows Karolina Krzysik receiving her award certificate and the prize of £250, from Andrew Dodd (the Events Co-ordinator for IET Bucks LN) together with Dr Rafid AlKhannak

Contact us
To contact the committee, please email us at Buckinghamshire