Chairman's Welcome
Welcome to the home of the IET Electromagnetics Technical Network.
We are an inclusive committee covering all branches of Electromagnetics, such as Electromagnetic Compatibility (EMC), Electrostatics, Low(Power)/High Frequency (RF/Microwave) EM Fields, both from an academic and an industrial perspective.
We are starting up our programme of activities again and planning for the remainder of this year and 2024 and would love to hear from you about working with the TN and bringing forward any ideas to help further the field of Electromagnetics.
We would also like to welcome new volunteers to the Executive Committee, so if you are interested in hearing more about the TN, please get in touch with Deborah-Claire McKenzie, our Community Manager via the link below.

Alex Gavrilakis, TN Chair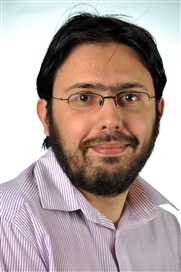 Executive Committee
Alex Gavrilakis - Chair
Andrew Chugg - Committee Member
Christopher Donaghy-Spargo - Committee Member
Hasan Abbas - Committee Member
Ian MacDiarmid - Committee Member
Jiafeng Zhou - Committee Member
Monika Ruh - Committee Member
Paul Duxbury - Committee Member
Richard Chippendale - Committee Member
Zhouxiang Fei - Committee Member
Interested in Millimetre-wave and Terahertz Waves Engineering? Join us on 2nd November for a full day of talks and networking.
We have the following invited speakers lined up along with our abstracts speakers:
- Professor Ho-Jin Song, Pohang University of Science and Technology
- Professor Sana Salous, University of Durham
- Professor Elliot Brown, Wright State University
- Dr Mira Naftaly, NPL,
- Professor Andrea Ferrari or Dr Xiao Zhang, University of Cambridge
CPD, industry and academic speakers and networking opportunities.