The Particle accelerator Technical Network facilitates sharing and understanding of technical information and knowledge associated with Particle accelerator for the benefit of IET members and the wider community. All of our events are open to the public and most are free of charge.
Your Particle Accelerator Engineering Network Needs You!
The Particle Accelerator Engineering Network is a joint network run by the IET, and IMechE and with strong links to the IOP. The aim is to bring together professional engineers and technicians in the UK to network and hear about new developments in particle accelerators. The network runs an annual meeting, technician training, webinars and topical networks.
We are seeking three new members of our committee. Committee members should be engineers or technicians working in particle accelerators but can be at any stage of their career and be from labs, academia or industry. Applications from diverse backgrounds are encouraged.
The committee meets 4 times per year (one of which is normally in person) and are involved in organising group activities. Appointments are for a term of 3 years.
To apply, download and complete the attached and send, along with a recent CV, to Gemma Hadley, by 19th November. Applications will be balanced against a skills matrix to ensure the committee covers the full range of engineering disciplines and at present we lack a technician member, an early career member and we could do with more mechanical members.
---
Medical Accelerators Half Day Conference
12th July 2023 at ICR at Royal Marsden Hospital, Sutton, SM2 5NG
Kevin, our keynote speaker, graciously agreed to be in our promo video for the conference.
Download your CPD certificate for the Medical Accelerators Conference below
PDF
---
Meet the Chair of the IET Particle Accelerator Engineering Network: Prof Graeme Burt is an international expert in the development of RF systems for particle accelerators covering RF amplifiers and RF cavities for a range of applications from high energy physics, light sources and medical accelerators. He teaches electronic & electrical engineering at Lancaster University as well as being a member of the Cockcroft Institute. He is currently the technical coordinator for HL-LHC-UK and has co-authored a textbook on accelerator science. He is the co-founder of the particle accelerator engineering network. Graeme is also very passionate about student mental health and increasing awareness about this subject.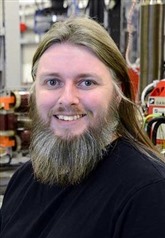 Why not head over and read our Chair's message
Meet the Committee

PDF
---