Our joint report with Policy Connect and the All-Party Parliamentary Group for Manufacturing, Delivering net zero through digital, calls for greater visibility for both digital transformation and sustainability within UK manufacturing. Manufacturers looking to improve the efficiency and productivity of their operations can take important steps towards net zero by embracing and embedding digital technologies, at the same time.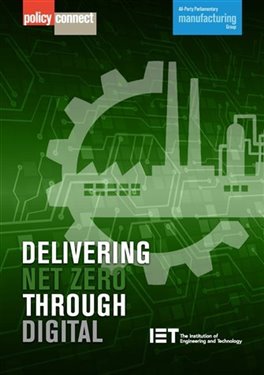 Previously, digitalisation and sustainability within manufacturing have largely been spoken of, separately, in isolation of one another.
Of course, many of the major manufacturers embraced digital technologies within their factories many years ago, reaping the rewards of faster turnaround times, increased product quality and improved productivity, with sectors and supply chains such as aerospace and automotive, among the early adopters.
Post-COP26 and with new legislation on industrial decarbonisation and net zero in place, the sector is facing the perfect storm of increased international competition at a time when new investment, talent and leadership is needed to deliver urgent joint action on digital and sustainability now.
Read our report to find out more: Delivering net zero through digital
If you or your manufacturing business have a story to tell about your digital and net zero journey leave your comments below.