The Department for Transport (DfT) has announced ambitious plans to decarbonise the transport system and meet the Government's target of ensuring the UK achieves net zero carbon emissions across the board by 2050. To do this, it will require significant advancements in technology and research collaboration. There are still many obstacles that need to be overcome and the IET's Transport Panel sought to get an idea of the scale of this challenge.
We had the pleasure of teaming up with the Engineering and Physical Sciences Research Council (EPSRC) this year to run a looking into the whole life cycle of decarbonisation in transport. It brought together experts from across academia, government and industry to discuss what progress has been made and what challenges still lie ahead across all areas of transport and infrastructure.
The workshop not only sought to address one of the IET's key areas of focus, sustainability and climate change, but also was timely to feed into the EPSRC's Net Zero Showcase, taking place this week, online and in Glasgow. Ultimately, helping us to understand the research and innovation requirements necessary to meet the 2050 targets.
We have produced a short flyer to give you a flavour of the upcoming report from the workshop, due to be published this summer. It highlights how crucial research is to this journey, focussing on the need to replace, remove and reduce so we can develop, discover and deploy, at scale.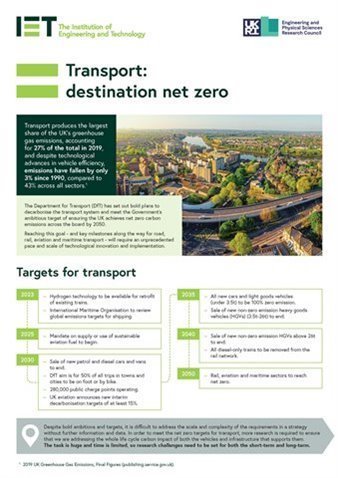 We would be keen to hear of any innovations or challenges you have come across with regards to decarbonising transport, particularly looking at the whole life cycle and including infrastructure, manufacturing, distribution and decommissioning of transport. Please log in to your IET EngX account to leave a comment below or contact us at sep@theiet.org.
You can also download the flyer here: Transport: destination net zero flyer (theiet.org)