The Singapore Local Network is led by local volunteers who come together to organise lectures and technical visits that provide opportunities to learn and meet new people. All events are open to the public and most are free of charge.
The Local Network aims to raise awareness of science, engineering and technology in the local area, and promote membership of the IET.
Visit the events page filtered by Singapore Local Network to find out about our upcoming events.
Contact us: Singapore-LN@ietvolunteer.org
Address: 1010 Dover Road #02-01 SPGG, Singapore 139658
Our committees:
Chairman/ Power & Energy Section: Mr Teck Lee Tan
Immediate Past Chairman: Mr Morgan Monici
Deputy Chair: Mr Viktor Dancza
Secretary: Dr Chandana Jayampathi Gajanayake
Treasurer: Mr Mauritz Khoo
Data Protection Officer: Dr. Sivakumar Nadarajan
Transport Section: Dr Andrew Ng
Senior Section: Mr Cheong Shin Tjai
Young Professionals Section: Mr Yi Sheng Chong
IPRA: Mr Richard Fong
Committee Member: EUR ING Adrian Paul Apthorp
Committee Member: Mr Rizky Wirawan Pratama
Committee Member: Ms Nilar Shyun Mya
Auditor: Mr Hee-Cheng Bian
Auditor: Dr John Tan
IET Singapore Network Annual Report 29 Aug 2023
Chairman's message
The Annual General Meeting of 2022, held on 23 June 2022 at Orchard Hotel, marked a delightful reunion for our members as we returned to face-to-face interactions.
As we rejoiced in the camaraderie of the in-person AGM, we also bid farewell to Chairman Morgan Bonici, who departed Singapore in August 2022. In the face of this transition, I, as a senior member of the Singapore Network Committee, assumed the responsibility of Acting Chairman with the unwavering support of the committee.
The first committee meeting took place on 16 August 2022, where we embarked on the mission to rejuvenate the Singapore Network. The committee's collective dedication and innovation fueled our efforts to devise engaging events aligned with the overarching IET strategies. Together, we translated ideas into actions, and I am profoundly grateful for the unwavering support and commitment shown by the committee.
The momentum was set in motion with the inaugural event, a learning journey to the Arts Science Museum on 27 September 2022. Witnessing the enthusiastic participation of our members after two challenging years was truly gratifying. Bolstered by this success, we organized two more technical networking events, culminating in a fulfilling close to the year.
The year 2023 witnessed an impressive string of accomplishments. Our collaboration with the Singapore Institute of Technology (SIT) in support of the Electrical Safety Symposium: Electrical Hazards Prevention and Management 2023 on 4 January 2023 set the tone for our proactive engagement. From 4 January 2023 onward, we initiated a remarkable series of 15 technical events, comprising learning journeys, technical visits, and seminars, extending until today 29 August 2023.
In our unwavering pursuit of excellence, we were honored to engage in a fruitful meeting with the IET Community Committee Asia Pacific (CC-AP) on 7 January 2023. This encounter allowed us to align our vision with IET strategies while also outlining our aspirations for 2023. Our commitment to collaboration was exemplified through partnerships with esteemed organizations such as the Singapore Institute of Technology, Institution of Engineers Singapore, Institution of Mechanical Engineers Singapore, University of Newcastle Singapore, IET Malaysia Network and IET Hong Kong Network. Our endeavors even took us across borders, as we led a delegation to Malaysia, visiting University of Reading Malaysia, University of Southampton Malaysia, and Newcastle University Medicine Malaysia.
As we reflect on the remarkable journey of the Singapore Network, I extend my heartfelt gratitude to the entire committee for your dedication, to our members for your unwavering support, and to our partners for your collaboration. The achievements serve as a testament to our collective passion and resilience. With a clear vision and teamwork, I am confident that the future holds even greater accomplishments for IET Singapore Network.
Tan Teck Lee
Chairman, IET Singapore Network
For more information of the IET Singapore Network Annual Report 29 Aug 2023, please click the link below.
https://www.facebook.com/photo?fbid=711392314348058&set=pcb.711394251014531
Recent Updates
2023 Aramco F1 in Schools World Finals at Resorts World Sentosa Singapore from 9th to 12th September 2023
The Institution of Engineering and Technology (IET) was a sponsor for the 2023 Aramco F1 In Schools World Finals held between the 9th and 12th of September 2023. Seven IET Singapore Local Network members contributed their time and experience to help judged the F1 in Schools World Finals #F1SWF, where 68 teams from 28 countries competed for the podium. F1 in Schools is a STEM competition that encourages children to explore science and engineering, with some of the winners going on to work for F1 teams. They were judged not only on the speed of their cars, but their engineering and design, as well as project management, enterprise, pit displays and verbal presentations. Sustainability now is a key consideration for the teams. This year's F1 in Schools World Finals was held at Resorts World Sentosa ahead of the Singapore Grand Prix. The IET is a STEM partner of F1 in Schools.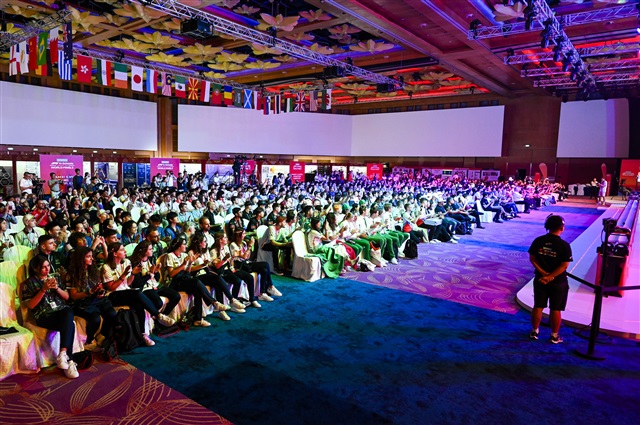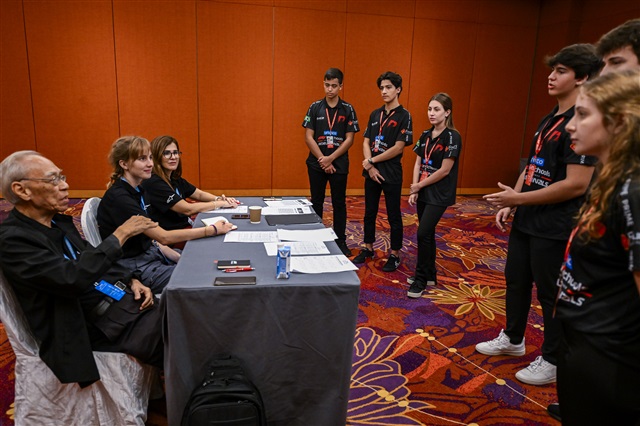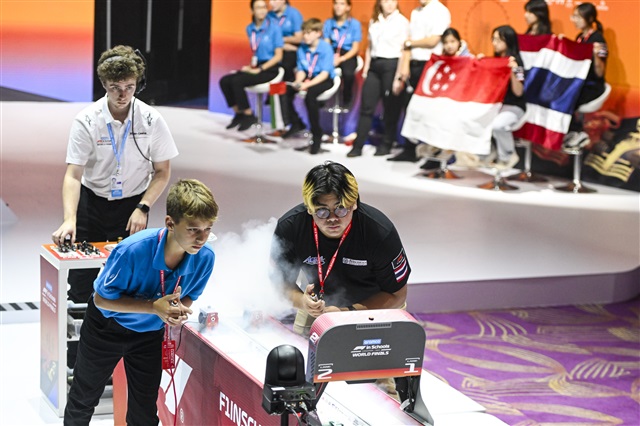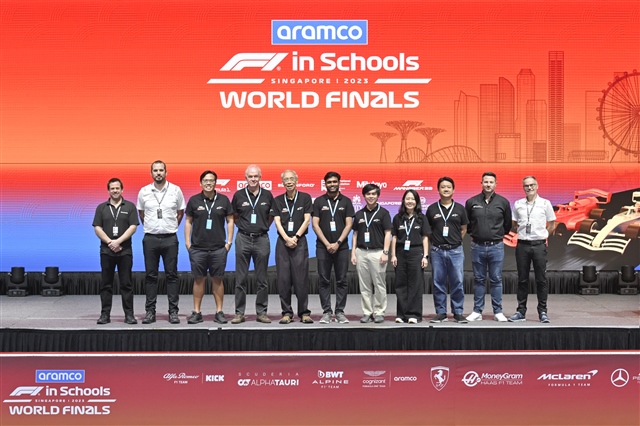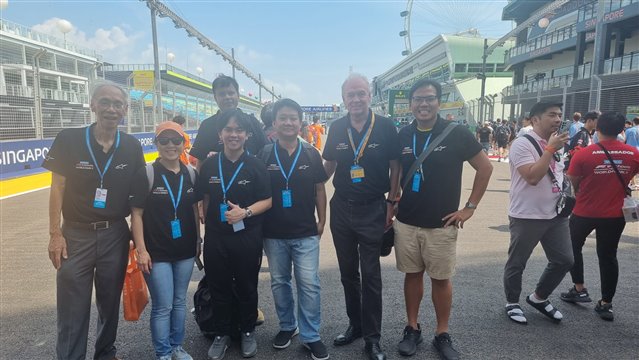 IET Singapore Network Annual General Meeting and Sustainability Initiatives of PARKROYAL Hotel held on 29 August 2023
IET Singapore Network hosted its Annual General Meeting (AGM) on 29 August 2023 at the Park Royal on Beach Road. This event brought together members for an informative and engaging evening filled with networking, valuable insights, and updates on IET Singapore Network's activities.
The evening commenced with a convivial networking dinner at 6:00 PM. At 7:15 PM, Mr Bian Hee Cheng introduced the speaker, Mr. Kung Teong Wah, the General Manager of Park Royal Hotel. Mr Kung shared the hotel's innovative initiatives aimed at providing exceptional guest experiences. He highlighted the challenges faced by the hotel industry and outlined their eco-friendly measures to overcome these challenges. Of particular interest was the integration of digital tools and data analytics to enhance the efficiency of HVAC systems, waste reduction, and facility maintenance.
The formal AGM proceedings commenced at 8:15 PM, moderated by Secretary Dr. Chandana Jayampathi Gajanayake. The meeting began with a review of the minutes from the previous meeting, which were accepted by members without any amendments. Chairman Er Tan Teck Lee followed with a comprehensive Chairman's report, which showcased the multitude of events hosted throughout the year. Members were delighted to witness the network's dedication to knowledge sharing and professional development. Treasurer Mr. Ritz Khoo then presented the Treasurer's report, providing insights into the network's financial status. The election of new committee members was managed by Dr. Chandana, with new members elected to the leadership.
Following the formal AGM proceedings, members were divided into groups for an exclusive tour of the Park Royal's facilities. The tour offered an up-close look at the hotel's advanced smart automation systems in guest rooms, energy-efficient chillers, and a state-of-the-art building automation system.
The event drew to a close at 10:30 PM, leaving members not only well-informed but also thoroughly satisfied with the enriching experience.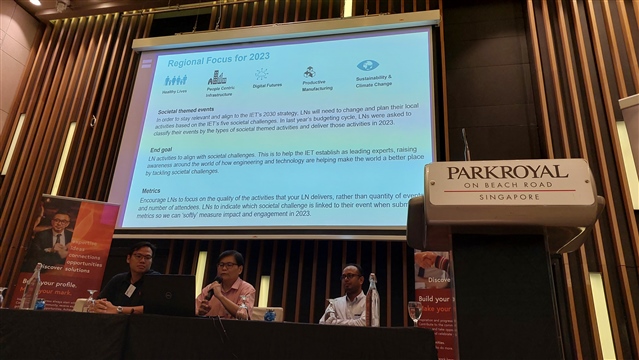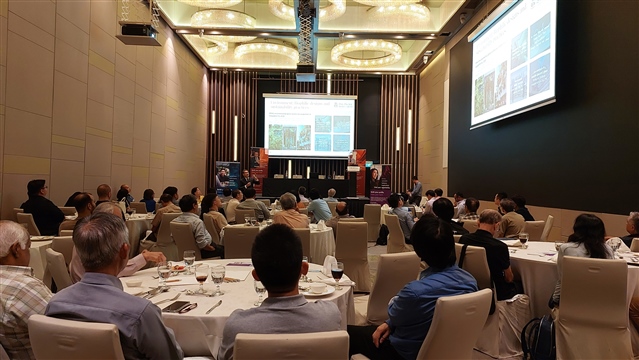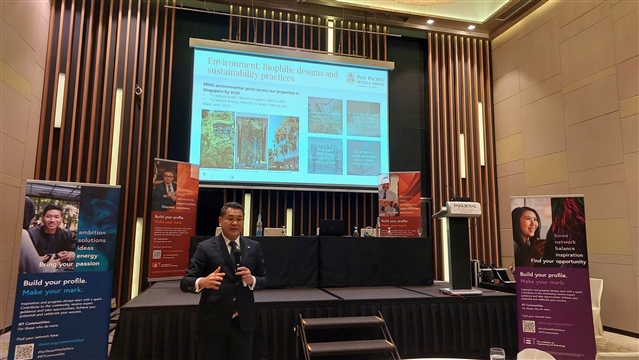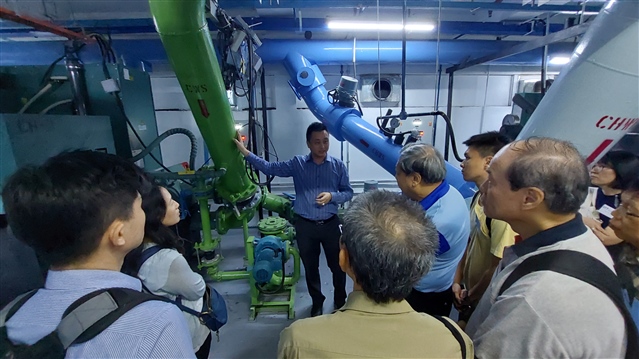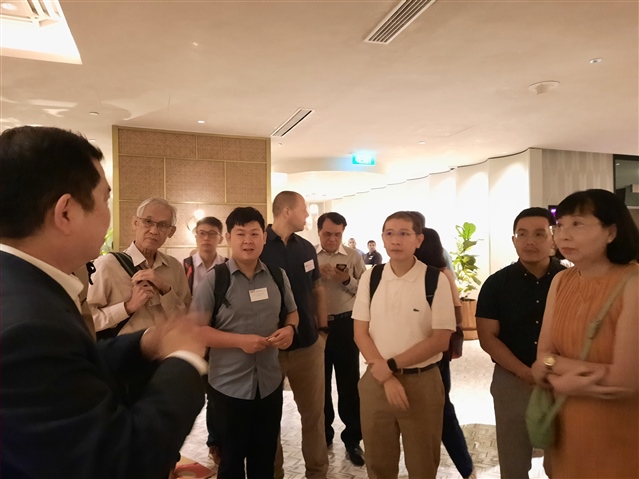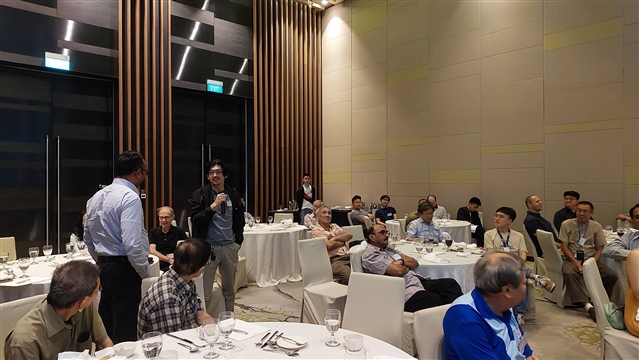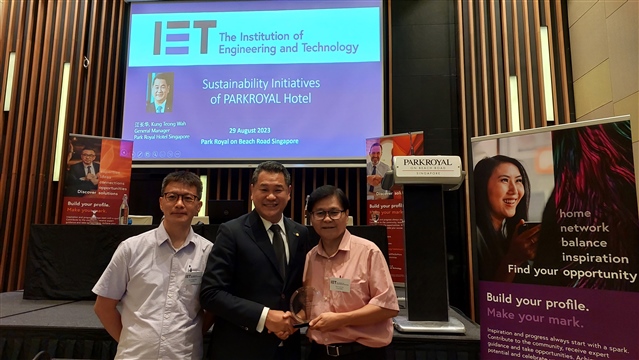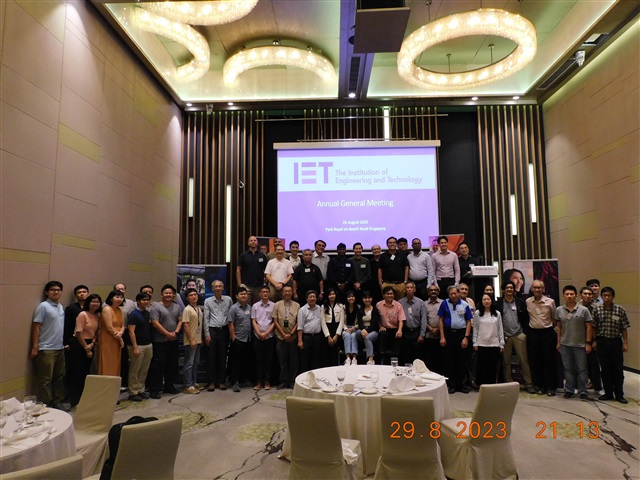 National Engineers Day-Engineering Innovation Challenge Prize Presentation Ceremony on 26 August 2023
IET Singapore Network was a supporting partner for the National Engineers Day organised by The Institution of Engineers, Singapore (IES). Members of IET Singapore Network were invited to join the National Engineers Day-Engineering Innovation Challenge Prize Presentation Ceremony 2023 on 26 August 2023 at 4pm. This year, we were honoured to have invited Mr Heng Swee Keat, Deputy Prime Minister and Coordinating Minister for Economic Policies to grace our events and present the awards to the winning teams. DPM Heng also joined us for a fireside chat to discuss on Skill Sets for the Circular Economy: Opportunities for Youths in Engineering.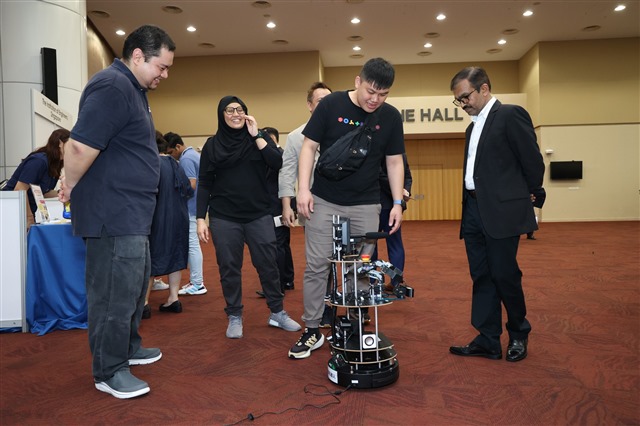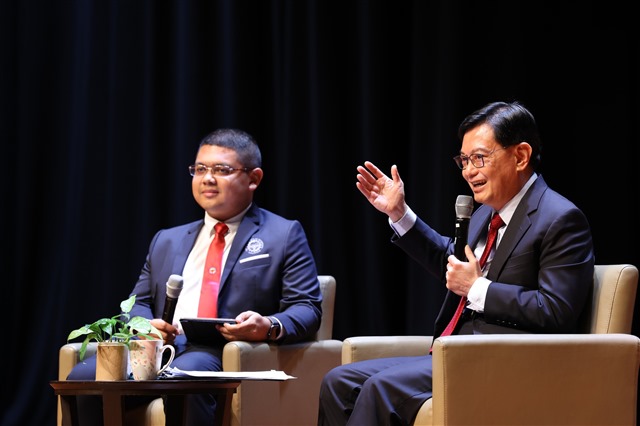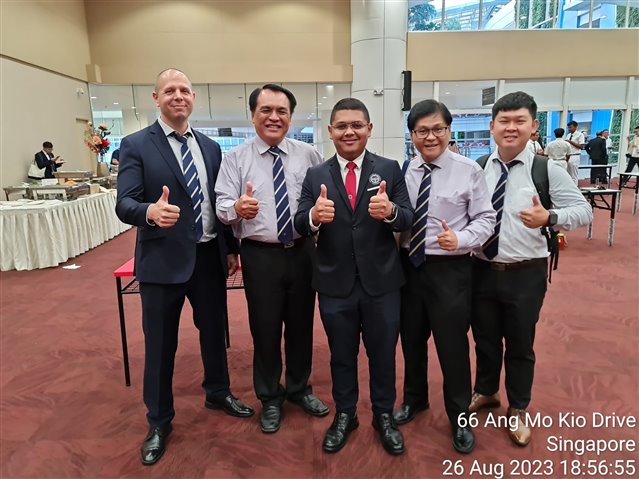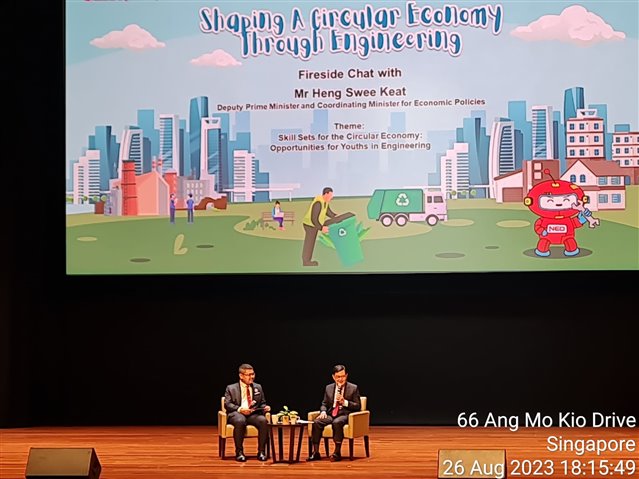 IET Singapore Professional Registration Workshop on 16August 2023
A wonderful night to be with more than 30 people to together learn how to be professionally registered with the IET! All of us have got some tips from Viktor, Rizky and Richard for filling up the Career Manager, where one could document their professional development. Wish everyone the best in the future endeavours!
Special thanks to Peter Ling from YP IET Malaysia and Zahin from YP IET Brunei who shared the events to our international attendees joining online.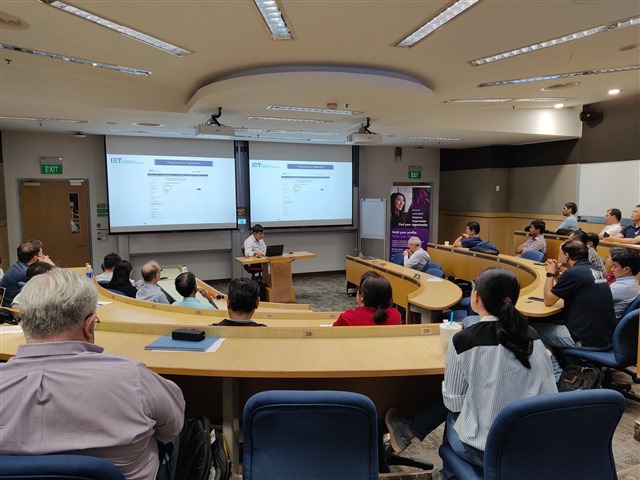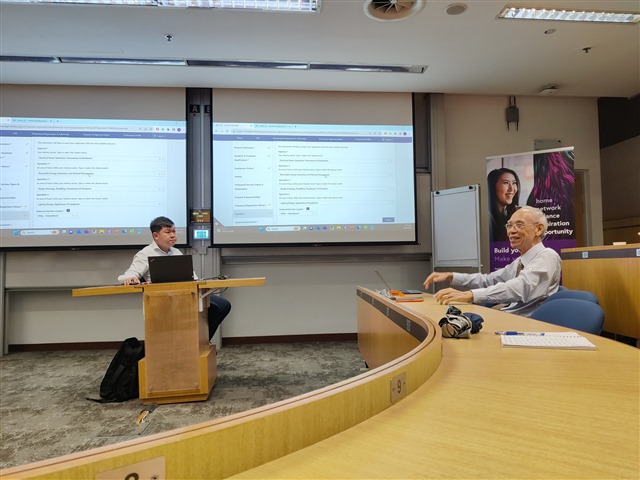 Joint Technical Visit with IMechE to SICK Digital Experience Centre on 25 July 2023.
The Technical Visit to SICK Digital Experience Centre on 25 July 2023, 2pm to 5:30pm, was the first joint technical event with IMechE. Having a joint event allows members to network and learn with engineers from other branches of engineering.
At the SICK Digital Experience Centre, members were welcomed by Mr Michael Goh, Managing Director of SICK South East Asia. Mr Jhohan Ng, Deputy Head, Market Product Management, introduced members to the setup inside the centre and explained on how digitisation can streamline the management of a modern factory. Live demonstrations on the process were conducted for members to understand the challenges of Systems Integration in modern engineering. IET and IMechE members actively exchanged knowledge relating to the engineering and technologies. The lively exchanges lasted beyond the tea networking session.
"Thank you very much for your support for the joint visit to SICK. The provision of refreshments greatly enhanced the networking. It is a good start for our collaboration and we look forward to future events. Our members certainly appreciated the opportunity to meet new people. I was very heartened to see how many attendees stayed back networking after the formal visit was over. In fact, the last group only left out of courtesy to SICK to allow their staff to conclude their duties and go home. Thank you once again." - Mr Kogi, Chair IMechE Singapore Branch
"It is with great pleasure that our first collaboration managed to kick off to a good start. We certainly would like to continue this partnership. Thank you to the team from IMechE and IET for the success of our first joint event." – Mr Tan Teck Lee, Chair IET Singapore Network
Special thanks to the organising team:
Mr Kogi, Chair of IMechE Singapore Branch

Mr Andy Bell, Vice Chair of IMechE Singapore Branch,

Dr Sivakumar Nadarajan, PDPA Rep of IET Singapore Network

Mr Tjai Cheong Shin, Chair of IET Singapore Network Senior Section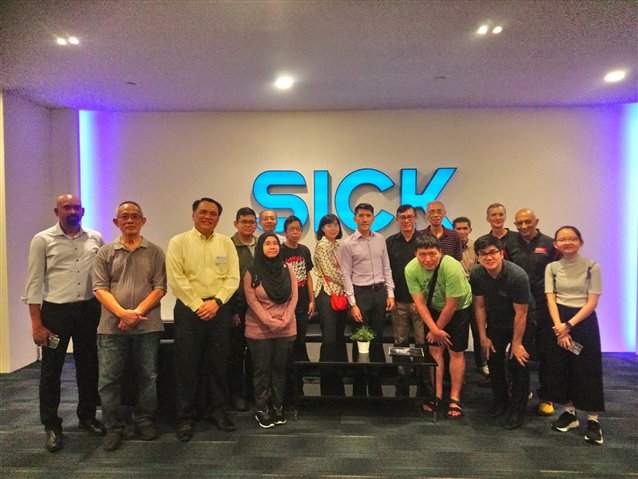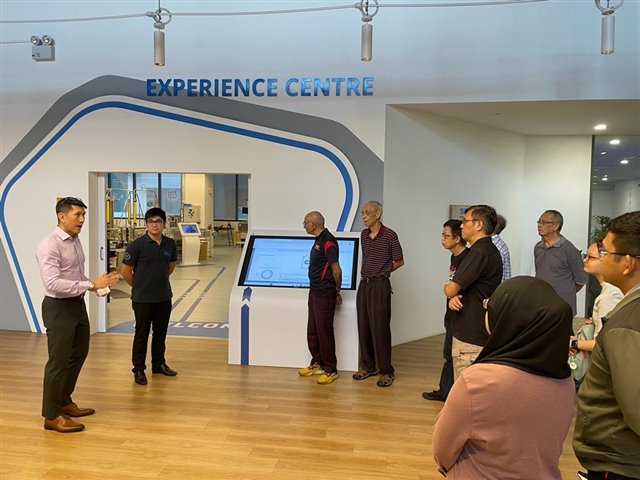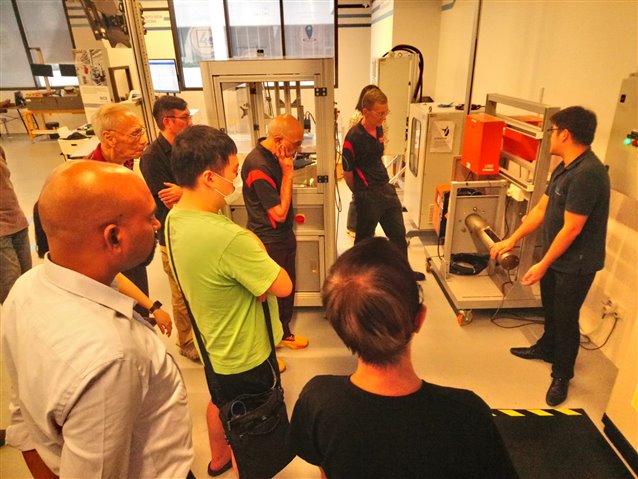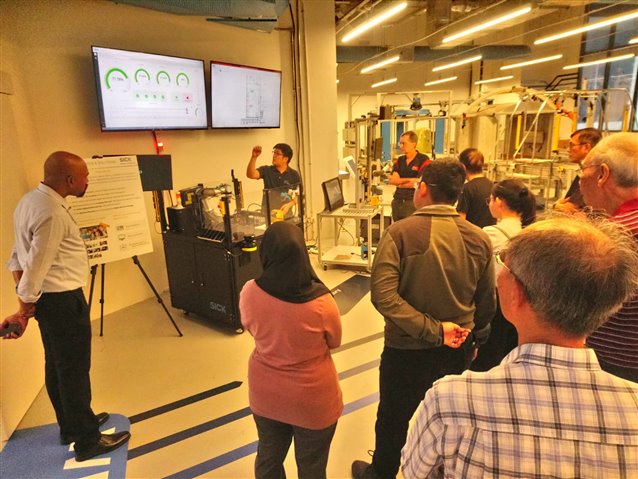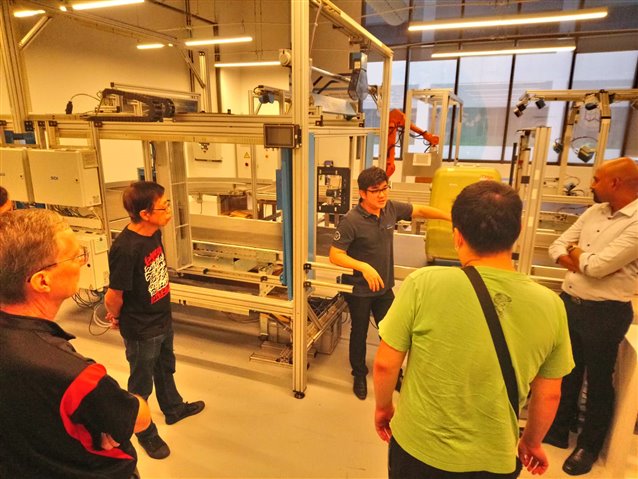 IET Singapore Network, Senior Section Learning Journey to EduCity Iskandar, Malaysia on 10 July 2023
IET Singapore Network Senior Section, chaired by Mr Tjai Cheong Shin, organised the first overseas learning journey to EduCity Iskandar in Johor Malaysia. Thanks to Dr Ivan Ling Ting Yang, IET Malaysia Network and University of Southampton Malaysia who hosted the event.
The members from IET Singapore Network assembled at Keat Hong Community Club and the bus left at 9am to clear the immigration to Johor Malaysia. They were welcomed by the Provost and CEO of Newcastle University Medicine Malaysia, Professor Christopher Baldwin, at their first stop. The tour brought members to the clinical wards and operating theatres of the university. The second stop was at University of Reading Malaysia where members toured the research laboratories and the flagship dealing room that gave students the feel of a real trading floor. Members then proceeded for lunch at the nearby LS Seafood Restaurant.
In the afternoon, members were welcomed by the Pro Vice-Chancellor (ASEAN) and Chief Executive Officer of the University of Southampton Malaysia, Professor Rebecca Taylor, who gave the opening address for the Industry Forum at the "International Conference on Green Energy, Computing and Intelligent Technology (GEn-CITy 2023) (https://gencity.southamptonmalaysia.edu.my/node/14 ). Chairman of IET Singapore Network, Er Tan Teck Lee, was one of the industry speakers at the forum. He shared his insights, the latest developments and trends, as well as the challenges and opportunities for future research and collaboration related to the theme of the forum "Sustainable and Smart Manufacturing- Driving Roadmap of Innovation for Industry". Members then toured the university's modern facilities for the programmes in the fields of Engineering, Business, and Computer Science.
Members returned safely to Singapore at 8.30pm with new insights gained and with potential collaborators for contributing to the development of the industry to engineer a better world.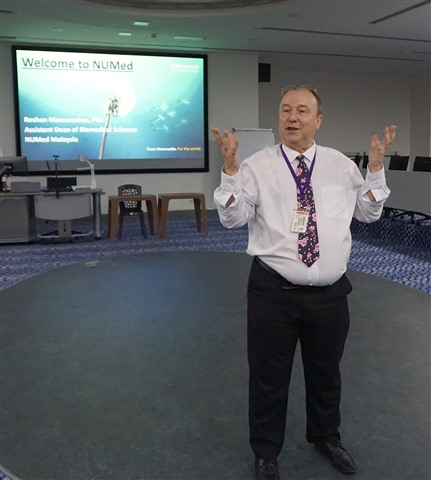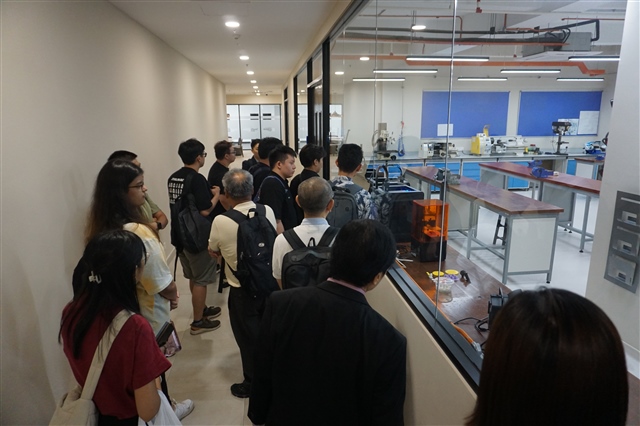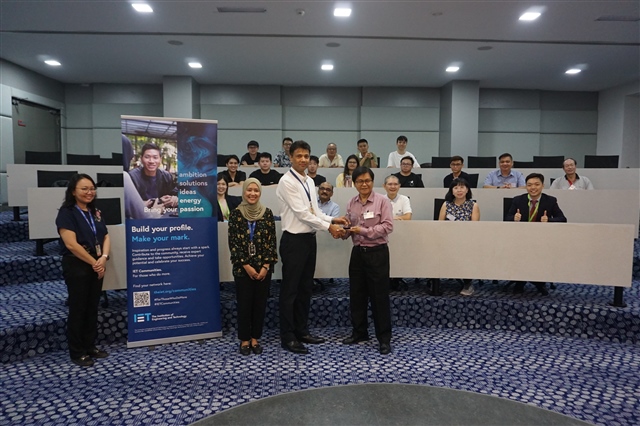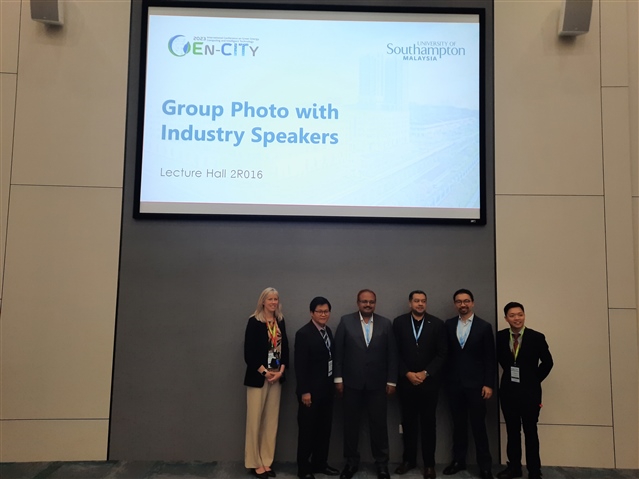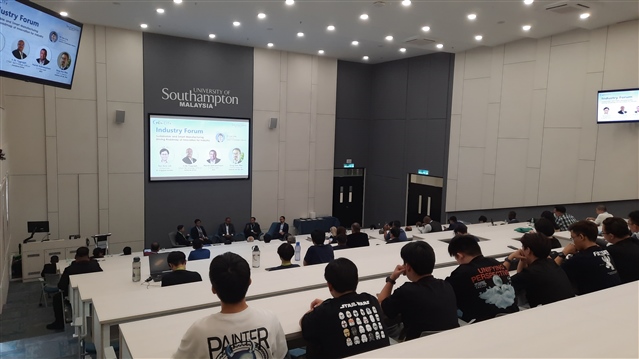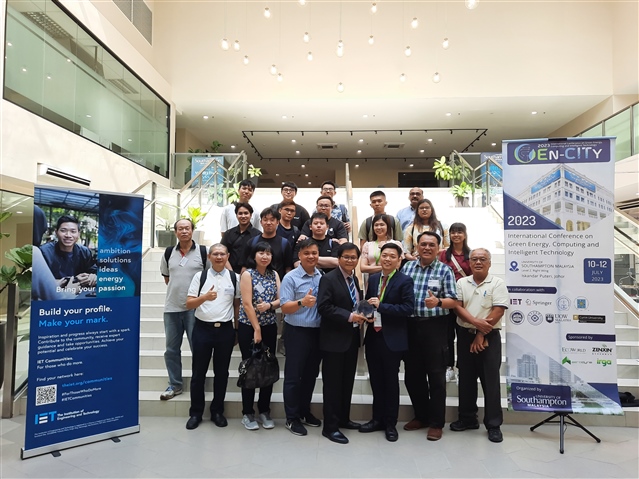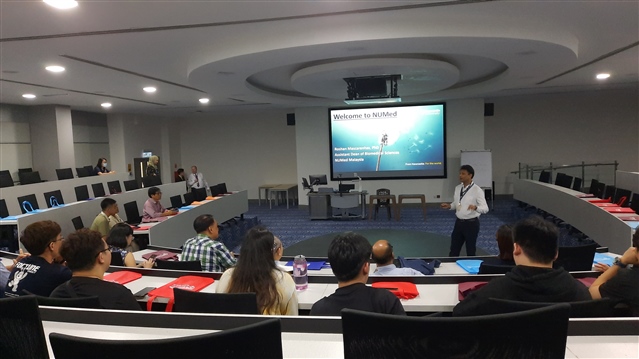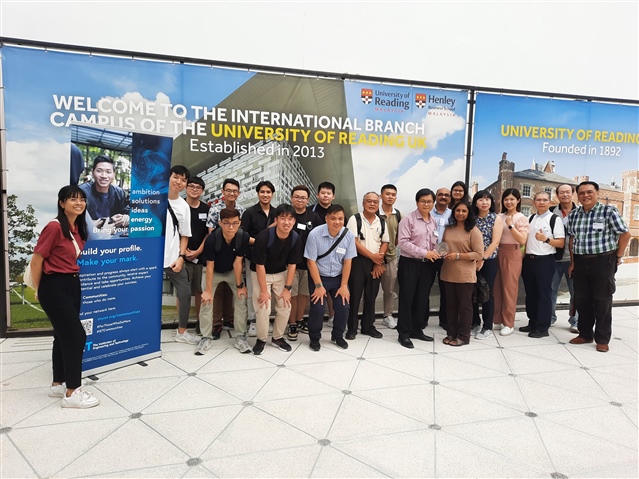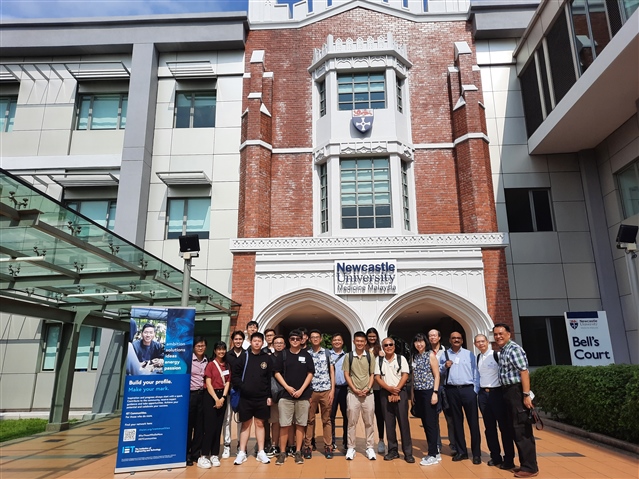 IET Singapore Network is a supporting partner for the Charles Rudd Distinguished Public Lecture held on 25 May 2023 (9am to 3pm) at Singapore Polytechnic Convention Centre. Themed 'Transitioning to a Net Zero World', the Lecture covered four topics, viz. Green Plan, Circular Economy, ESG and Green Finance. Transition to net-zero is not a solo project. It requires a holistic view across an ecosystem that includes government, businesses, customers and communities. It will accelerate changes in demand, capital spending, technological innovation, jobs, business opportunities and societal paradigm shift in increasing measure.
The programme included a Guest-of-Honour Address by Mr Desmond Lee, Minister for National Development & Minister-in-charge of Social Service Integration, a Distinguished Keynote Address by Mr Lim Tuang Liang, Government Chief Sustainability Officer in Ministry of Sustainability and Environment, and two sessions of Panel Discussions. The topics for the panel discussions were "Empowering Net-Zero Transition through Green Plan and Circular Economy" and "ESG and Green Finance: Latest Strategies, Trends and Future Outlook".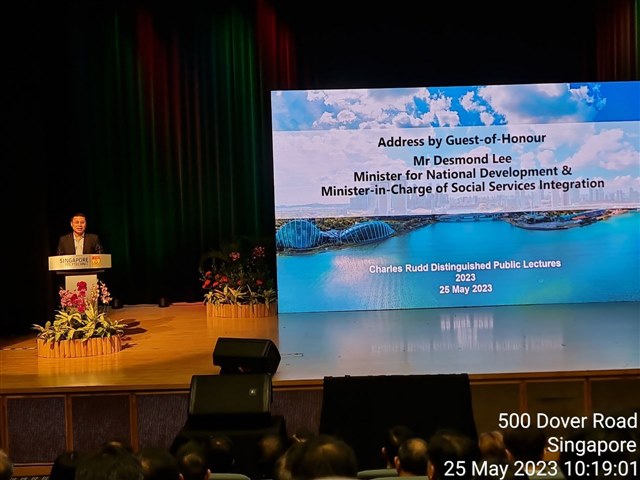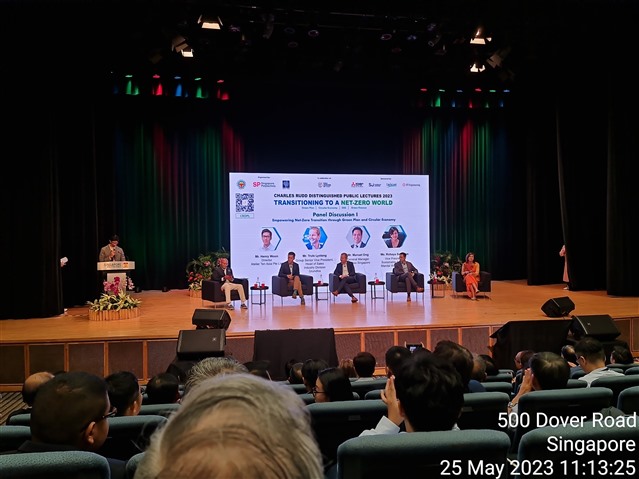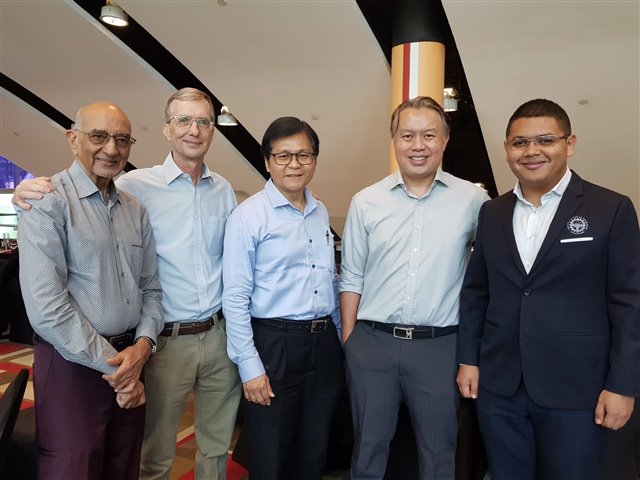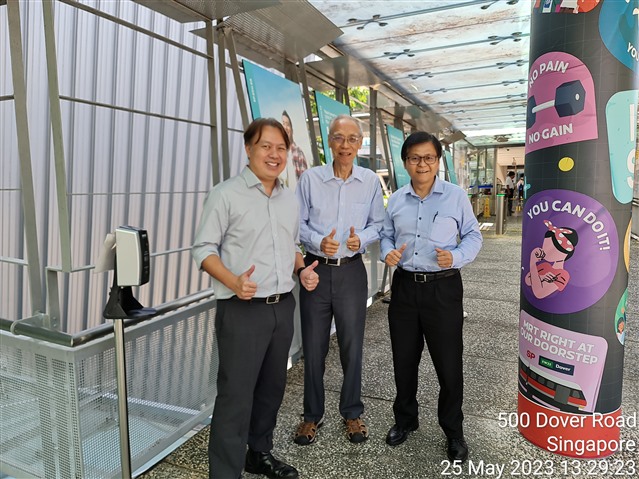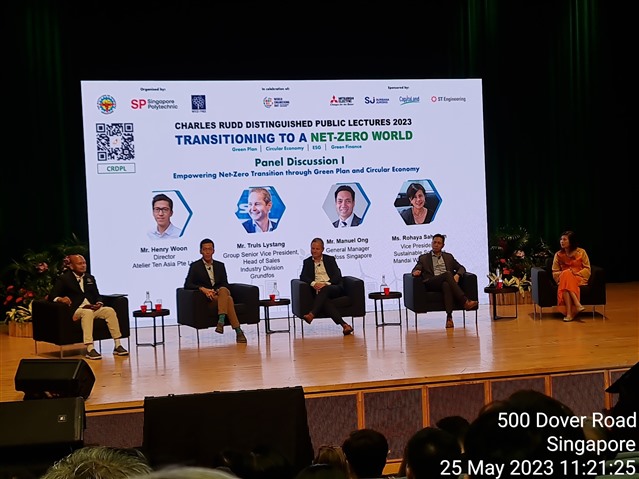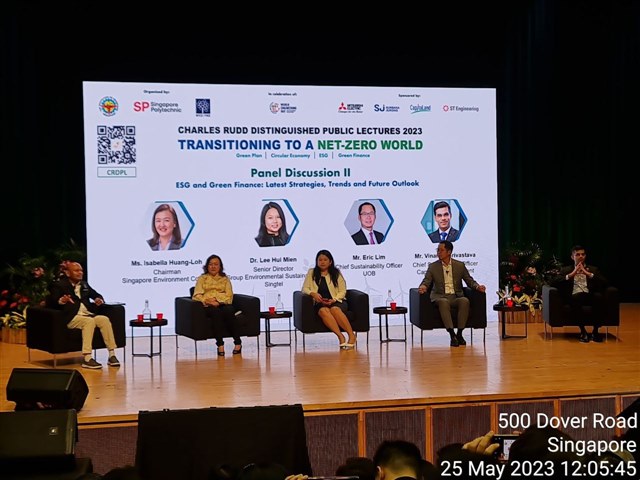 IET Singapore Network organised a learning journey to Singapore Discovery Centre on 20 May 2023 (Saturday) from 10.30am to 2.30pm. Members could bring a guest or their family members.
The learning journey took the participants through the Eco Sustainability Tour where they experienced a fully sensorial eco tour around Singapore Discovery Centre and learned about the solar panel installation and the herbs and greens at the urban garden.
The participants came up close to the floating solar panel installation on the Discovery Lake and learned about traditional and modern farming methods in land-scarce urban Singapore. They engaged their senses of smell and touch to identify and learn more about some commonly used herbs and greens. A classroom session was arranged for them to discover the joy and beauty of urban gardening where they planted their own microgreens to create a beautiful living craft. They were then treated to sample a cup of tea infused with the fragrant scent of herbs, which can be found in the urban garden.
The participants then relaxed and networked with their family and friends at the Bottle Tree Café Restaurant through a buffet lunch.
After lunch, the participants were brought through an immersive journey from past to present at the Permanent Exhibits Gallery where they journeyed through time to experience the evolution of Singapore from our early days under the rule of the Malay Kingdom to the bustling metropolis that we are today.
The participants then continued their own exploration in the permanent exhibits gallery and some of them even hopped onto the SAFTI MI bus for an exclusive tour around the 88-hectare training ground for officers-to-be.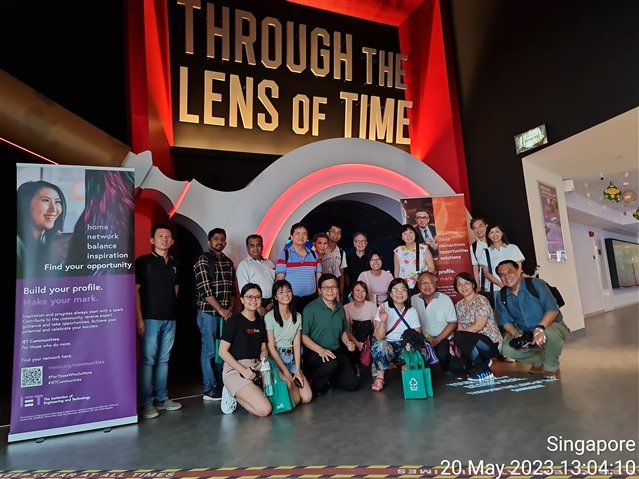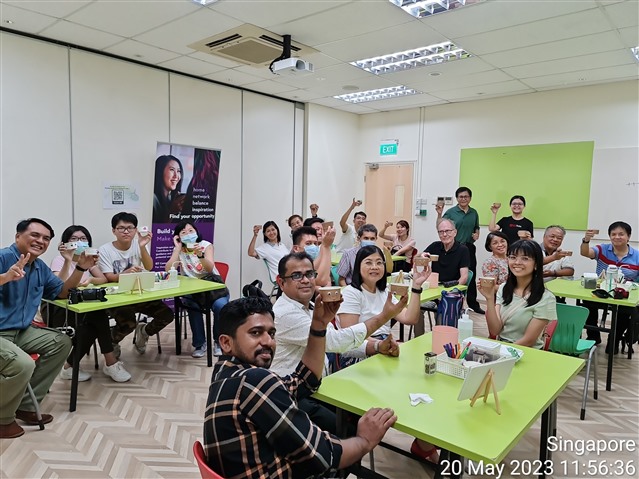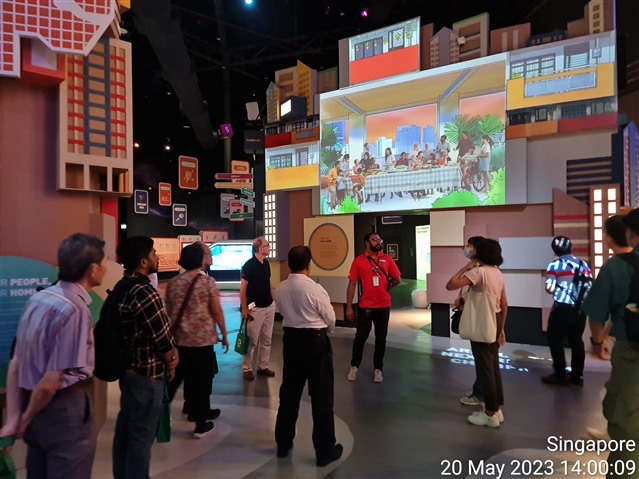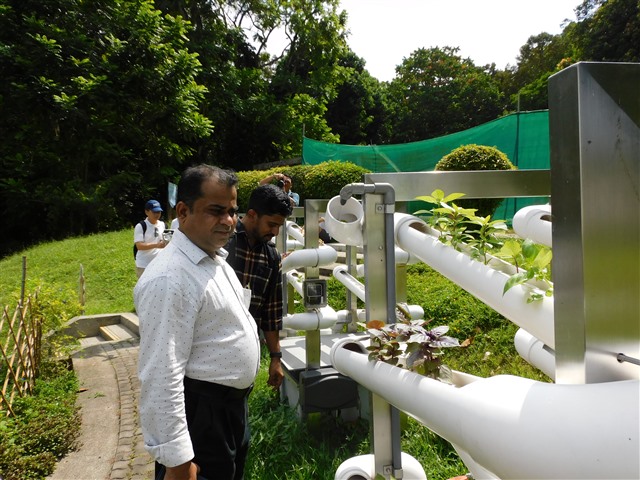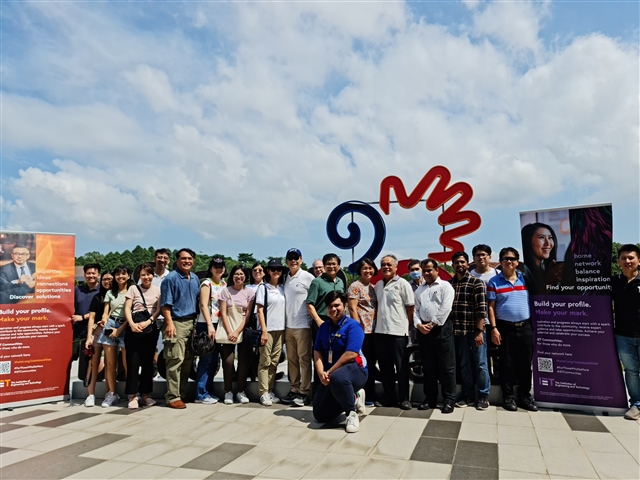 IET Singapore Network is a partner for the "International Symposium on Accelerating Electromobility in the UK and Singapore: A Shared Challenge" organised by Newcastle University and held at the Carlton Hotel from 17th to 20th April 2023.
This international symposium brought together Thought Leaders and Researchers from the United Kingdom and Singapore to reflect on progress in the transition to electromobility for both countries. The experts discussed on the social, policy and technical developments, and identified key successes and challenges.
Er. Tan Teck Lee represented IET Singapore Network to moderate the session on "The Role of AV in Electromobility". The panel discussed the role AV may play in the adoption of EV, the technical, societal and regulatory barriers to widespread AV adoption as part of a future urban mobility strategy to ensure a successful transition of both EV and AV.
The symposium was attended by representatives from government agencies and the leading industry players from the UK and Singapore.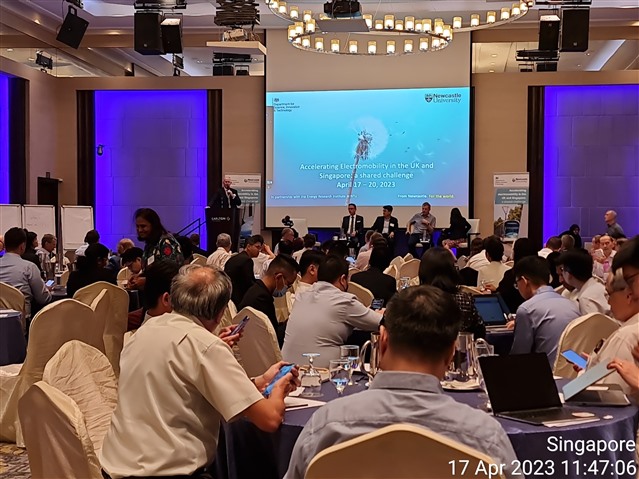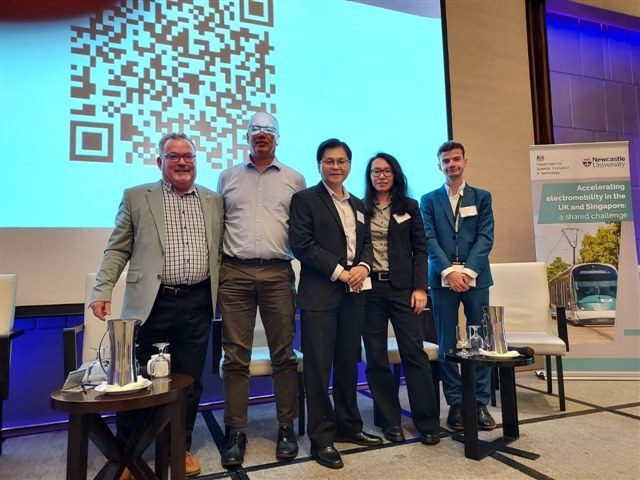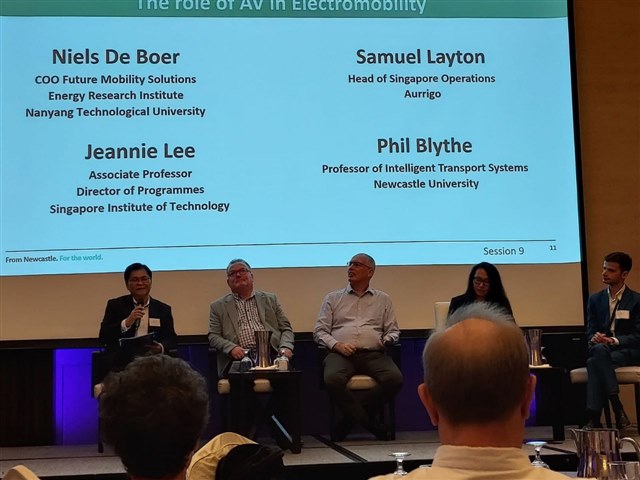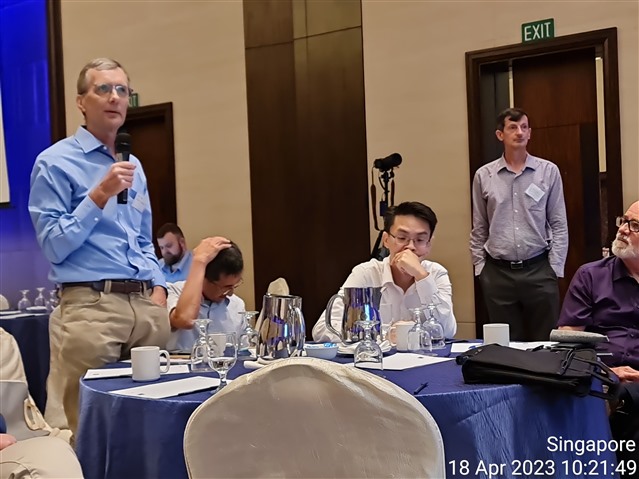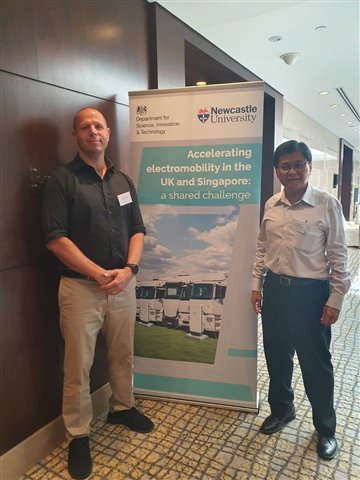 Date: 13 April 2023
Designing with Holograms – Improving design visualisation through holographic display
Special thanks:
Dr Kyrin Liong, Dr Jeannie Lee and Emram Poh (Research team/Speakers)
Singapore Institute of Technology (Academic partner)
Samuel Lee and HOPE Technik (Industry partner/Speaker)
HelloHolo (Technology partner providing the mixed reality headsets)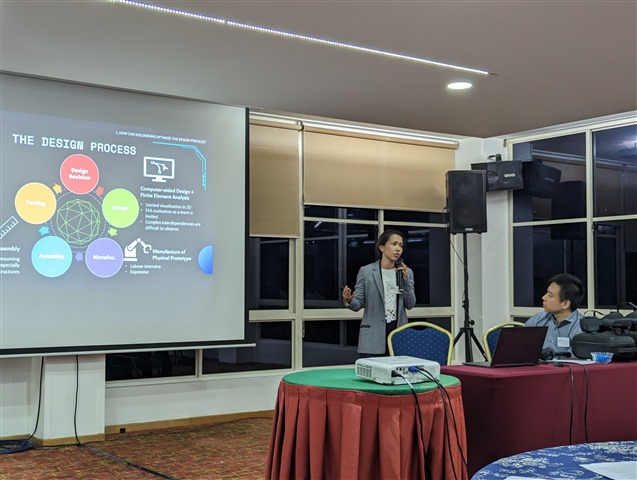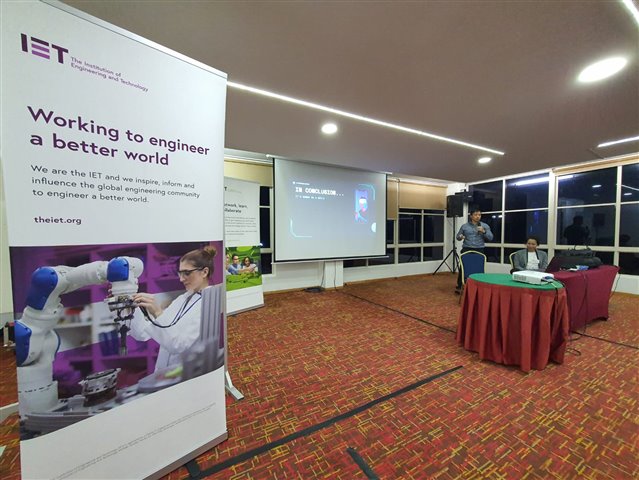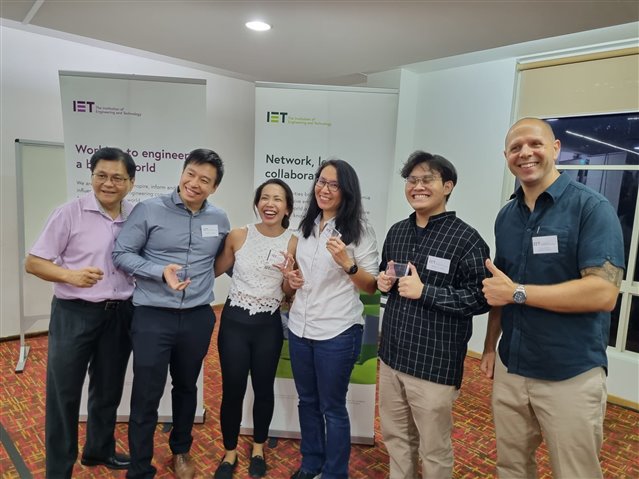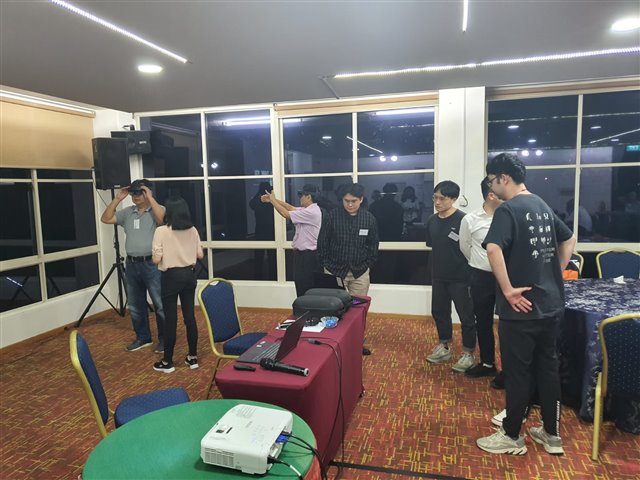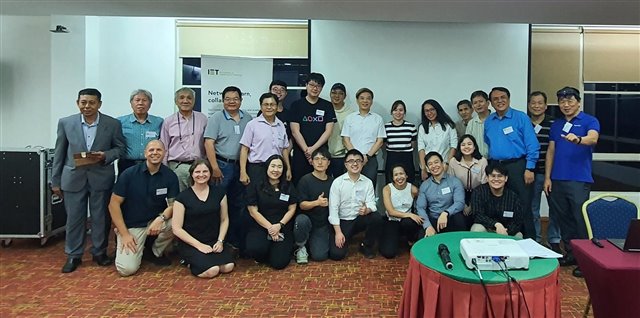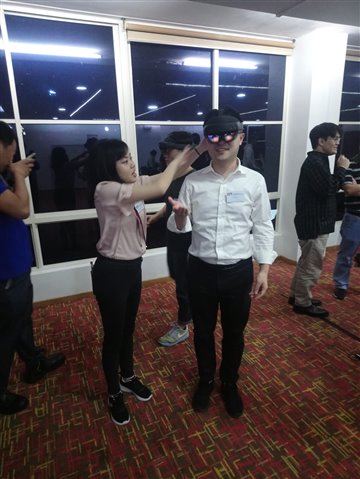 Date: 16 March 2023
IET Hong Kong - Singapore Networking Technical Evening
Thank you for our esteemed speakers Dr. Kevin Hung and Er. Heng Lim Chan who had shared on the topic of Smart Health and the Prevention of Electrical Fire last night.

This is a collaboration between IET Hong Kong Network and IET Singapore Network
. It will provide good opportunities for networking between the two networks. There were incidents of fires in buildings due to charging of batteries or ageing of electrical wirings.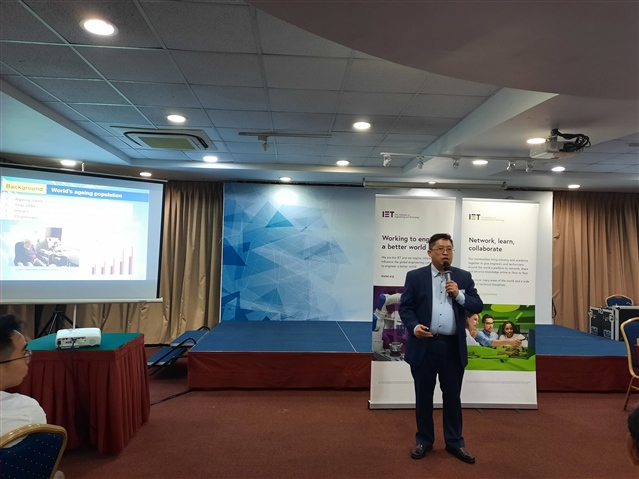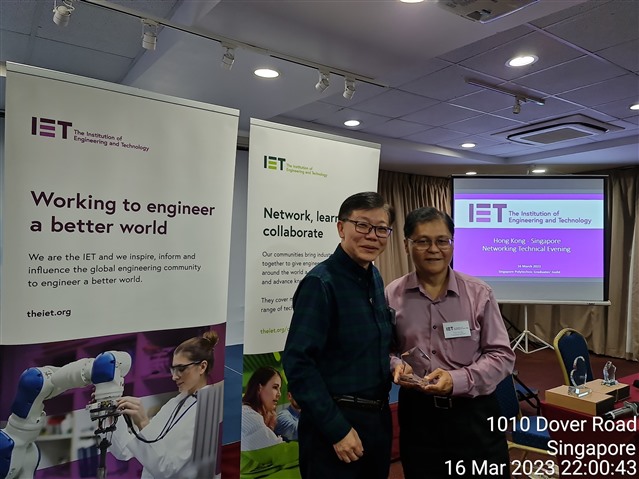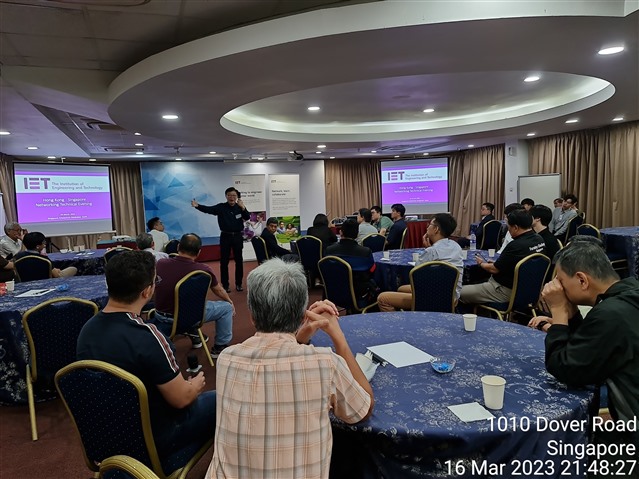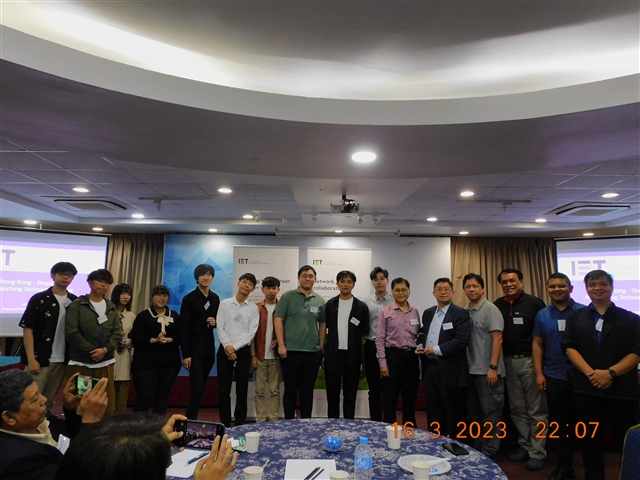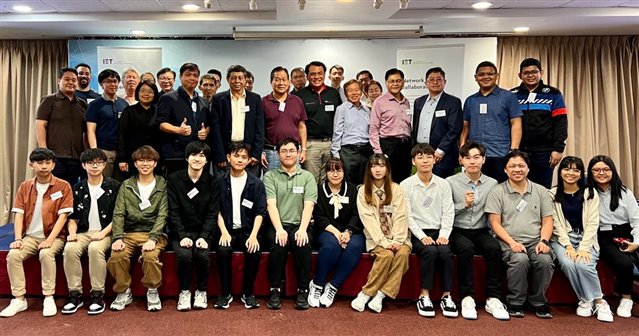 Date: 04/03/2023
IET Singapore Network is a Green Partner for IES Green Festival held at the Singapore Science Centre on 4 March 2023. The event was to commemorate the World Engineering Day 2023. The programme included a Fireside Chat with Dr Amy Khor, Senior Minister of State Ministry of Sustainability and the Environment; Tech Talk on Future Green Technologies; and Exhibitors demonstrating doing things the innovative and sustainable way.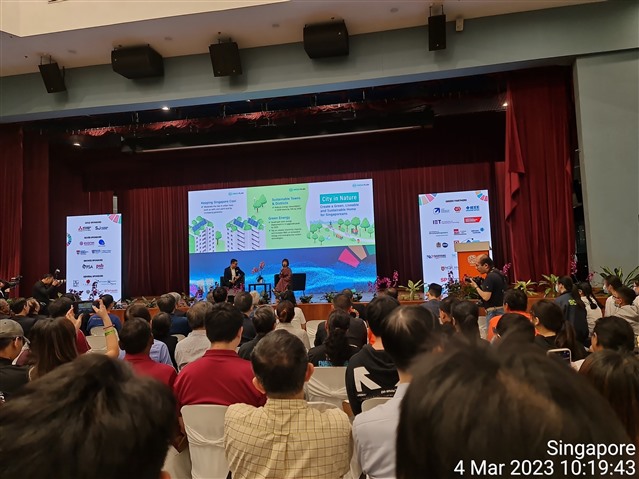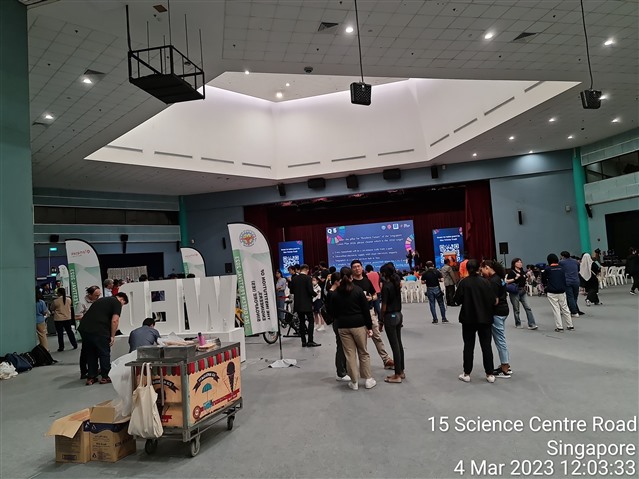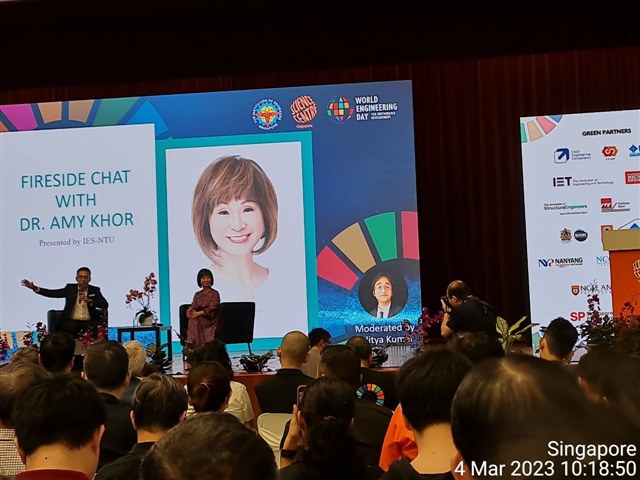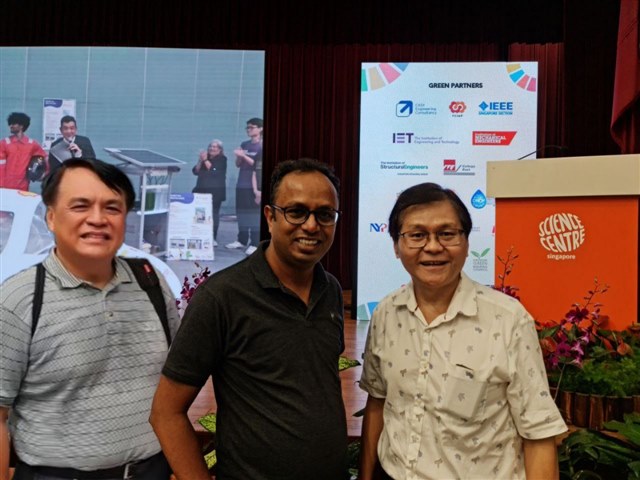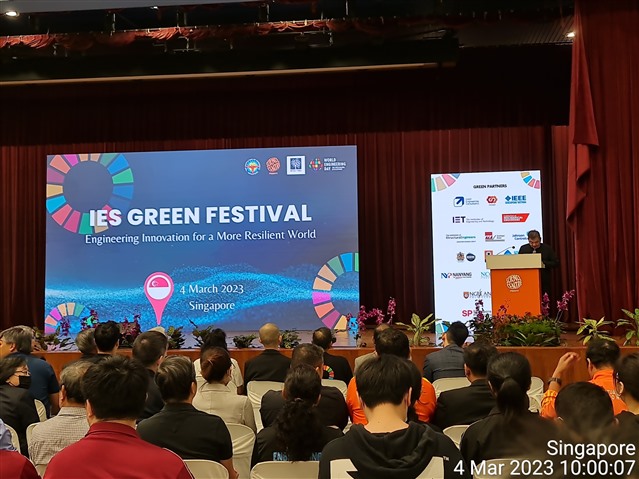 Date: 22/02/2023
A successful evening talk on "Challenges and opportunities for Southeast Asia's EV and EV charging eco-system" presented by Monica Huang, Senior EV Charging Consultant from Envision Digital.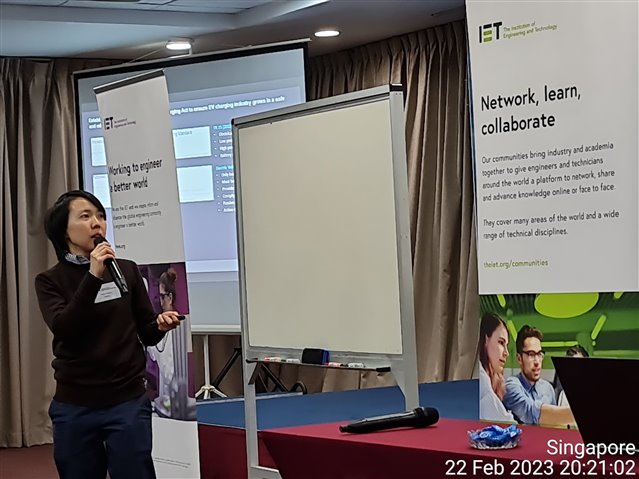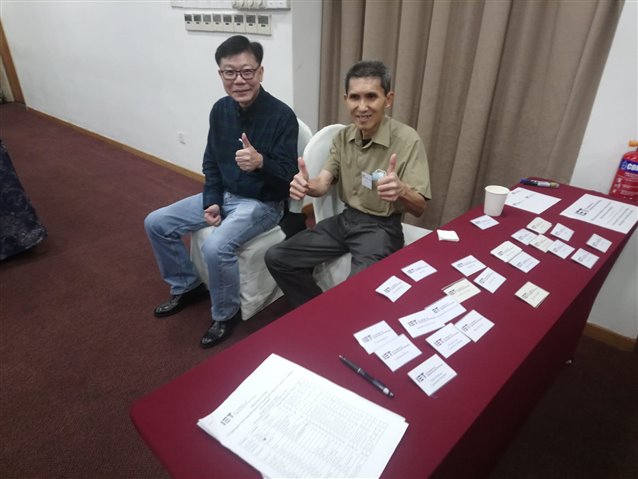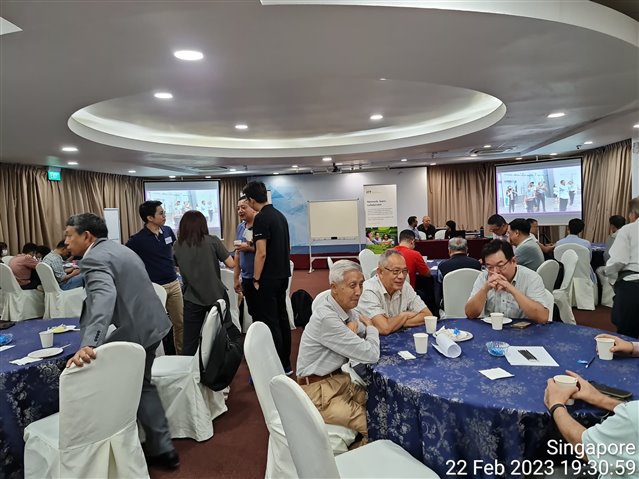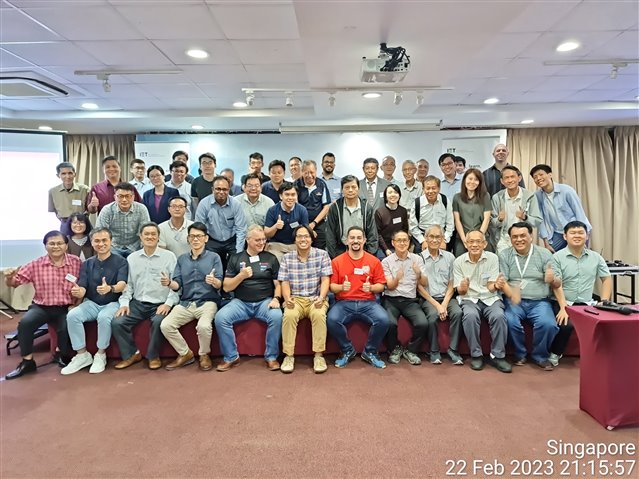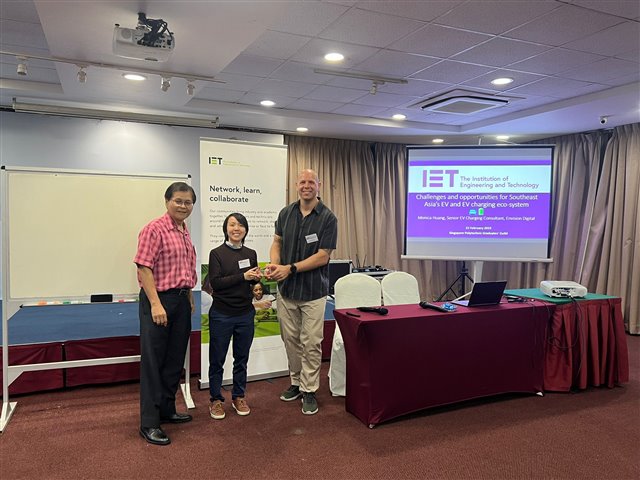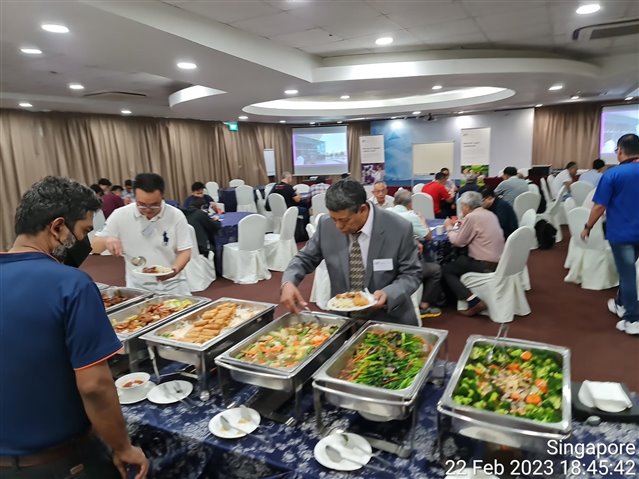 Date: 07/01/2023
The IET Singapore Network had a nice catch-up meeting with the IET Community Committee Asia Pacific (CC-AP) on 7Jan, 2023 in JEN Singapore Tanglin by Shangri-La.
We are the IET and we inspire, inform and influence the global engineering community to Engineer a better world.

Date: 04/01/2023
IET Singapore Network is a supporting organisation for the Electrical Safety Symposium: Electrical Hazards Prevention and Management 2023 organised by the Singapore Institute of Technology (SIT) held on 4 January 2023. The other supporting organisations are the Energy Market Authority (EMA), Ministry of Manpower (MOM), and the National Fire and Emergency Preparedness Council (NFEC).
The recent spate of electrical incidents which resulted in the loss of lives and properties is causing great concerns to the public, regulatory agencies, and practitioners. Join us at our first electrical safety symposium, where speakers from regulatory authorities, practicing professionals, and academia will share their insights and best practices to prevent electrical injuries and electrical fire hazards.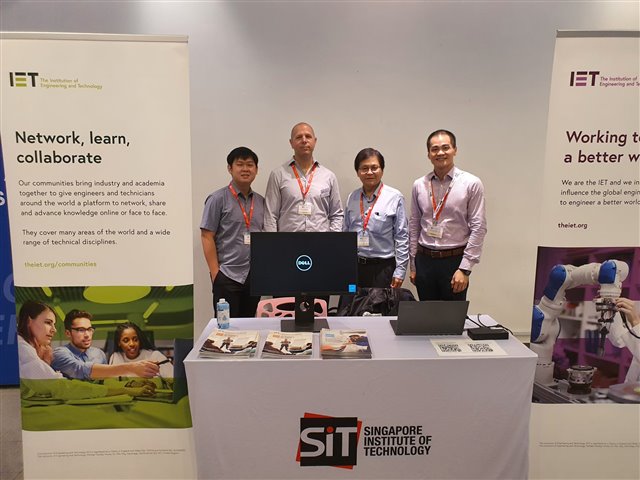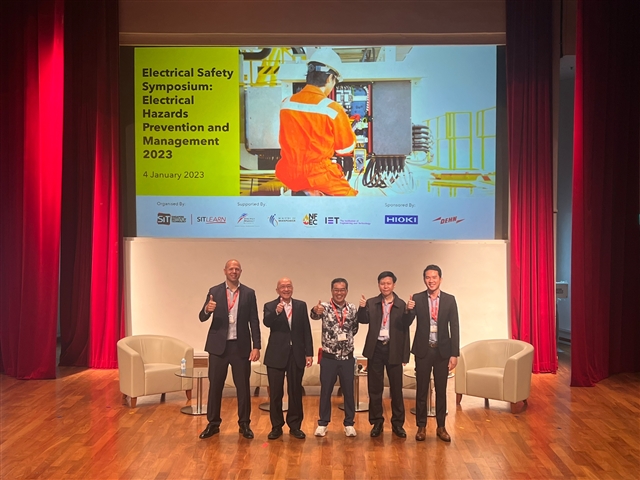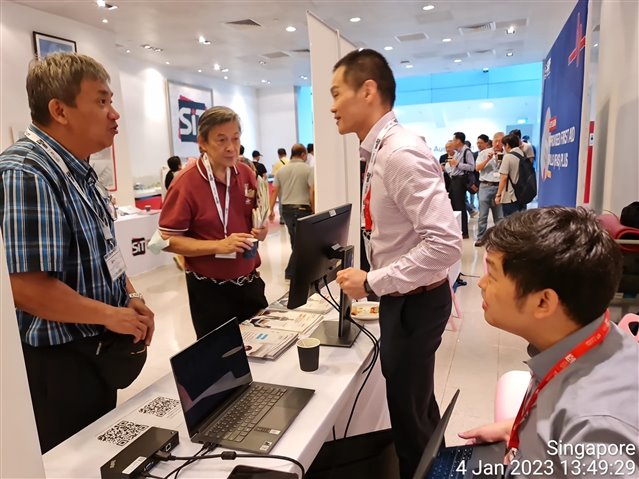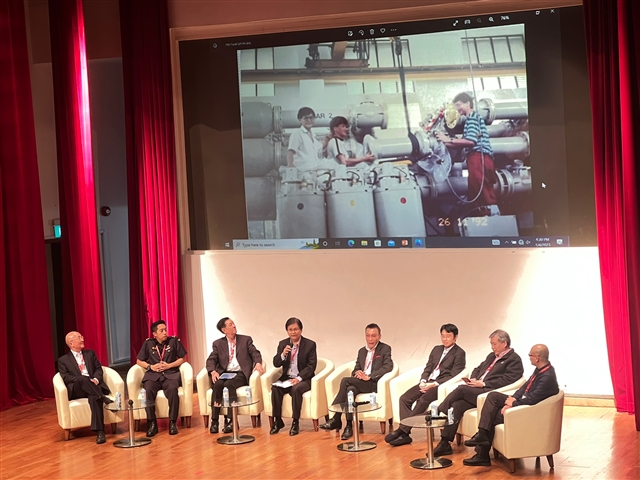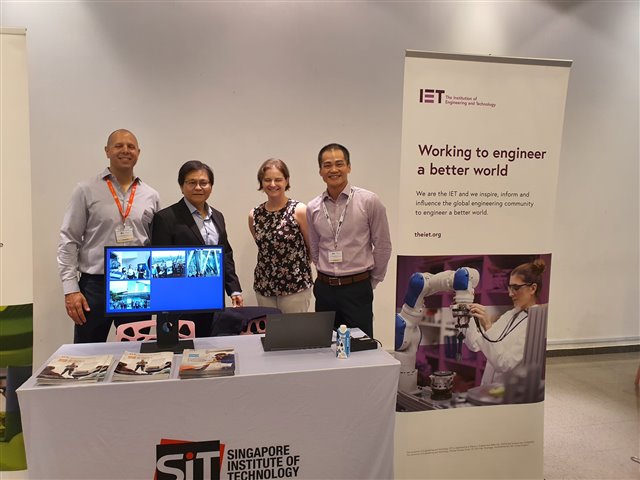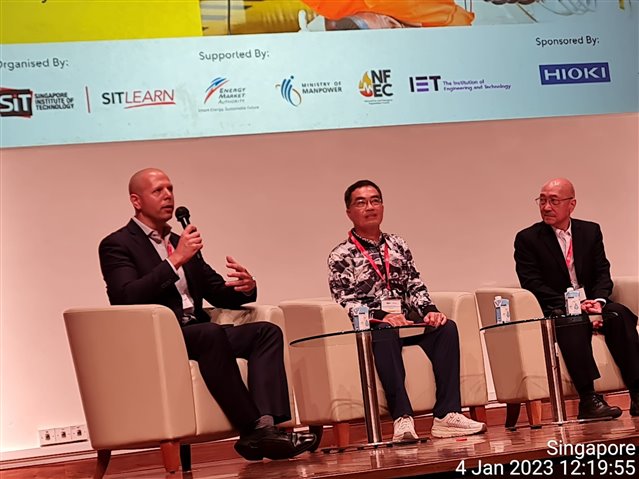 Date: 28/11/2022
IET Power and Energy Section Networking Seminar
We have two distinguished speakers, René Peter Paul Smeets and Roy Nijman, from the Netherlands sharing with us the alternative gases to SF6 in high voltage engineering and innovations in switching technology.
René Peter Paul Smeets gave and overview of the global status of SF6 reduction efforts by regulating bodies and system operators. He then discussed fluoronitrile mixtures and natural-origin gas mixtures for the various requirements such as for dielectrical and switching capabilities. He finally shared the roadmaps and outlook of the new media.
Roy Nijman presented an overview of the major trends in switching technology, covering aspects such as environment, increase of ratings and digitalization. He then highlighted the fundamentals of DC switching along with applicable technology and some demonstration projects.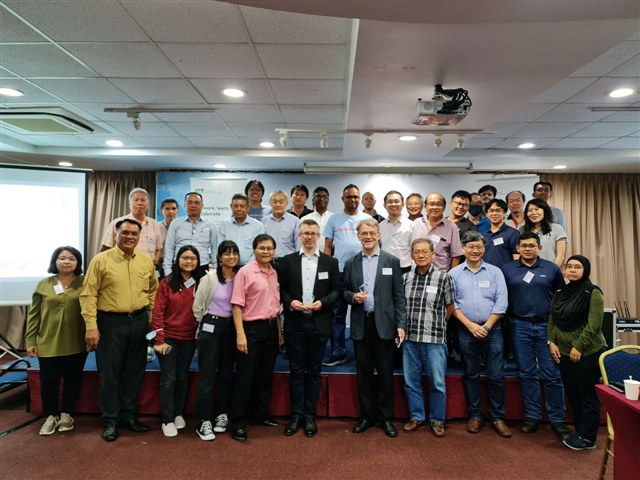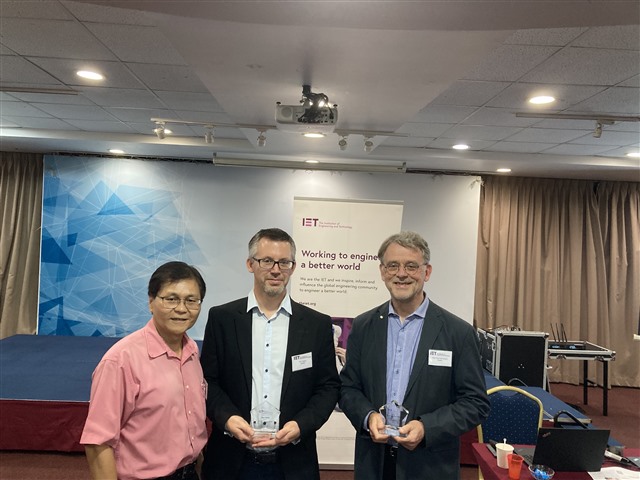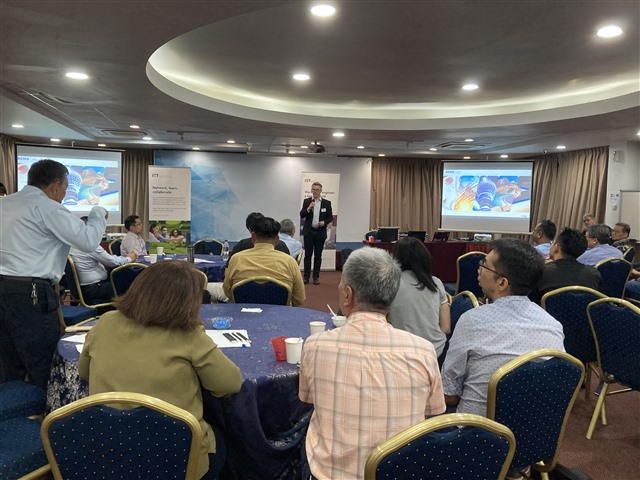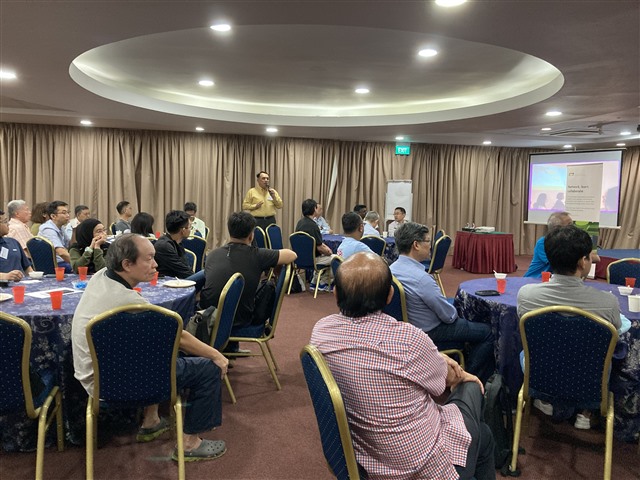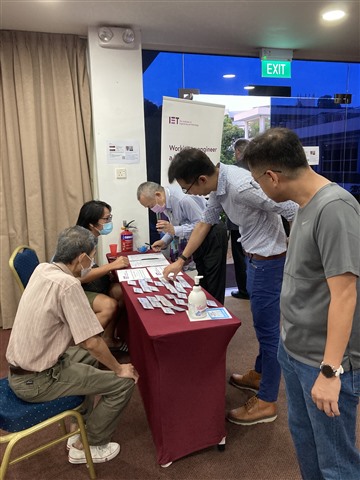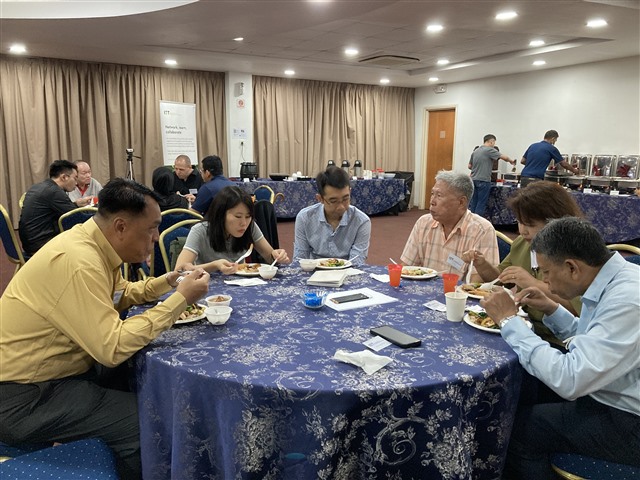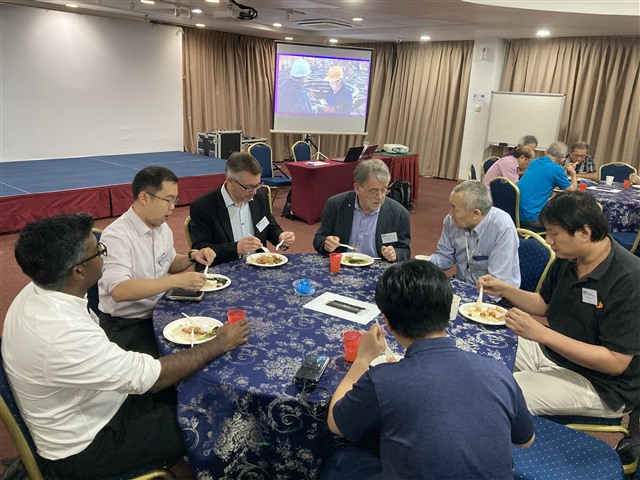 Date: 10/11/2022
Event: You are in Charge, Now What? – Leading with an Entrepreneurial Mindset
Speaker: Danny Loong, Founder, CEO of Timbre Group
Moderator: Deon Senturk, B.S. Co-founder of Team Rise
Deon Senturk kicked off the session by sharing about self-awareness which revolved around our talents, passions and values. Danny Loong then shared about his journey from being a student, to a musician to an entrepreneur. The sharing kept participants engaged with many discussions and leading to sharing of views by some of our senior participants. It was indeed an insightful session. Thank you to Deon and Danny for your inspiring stories.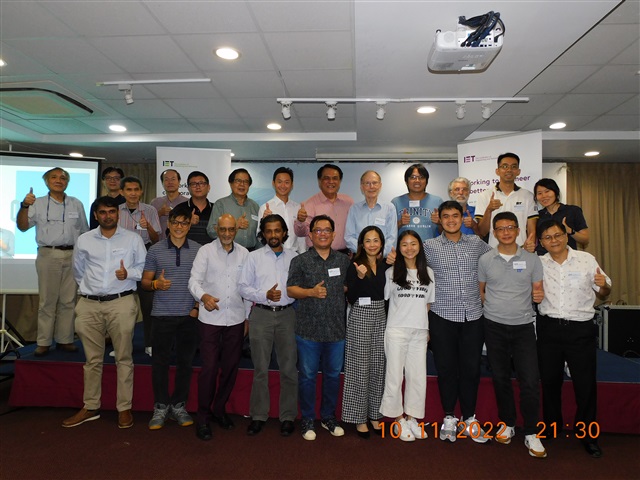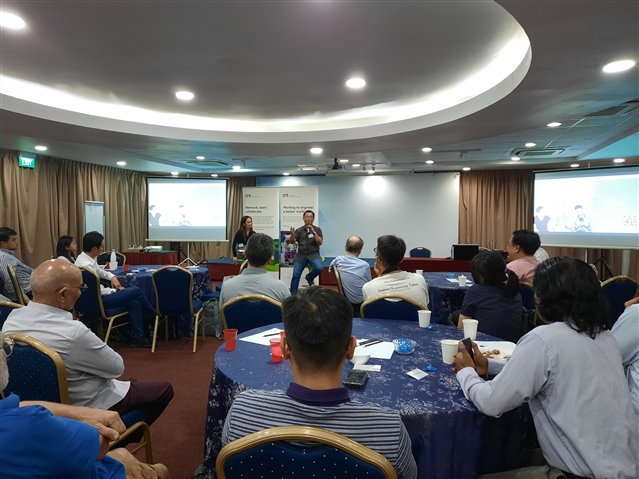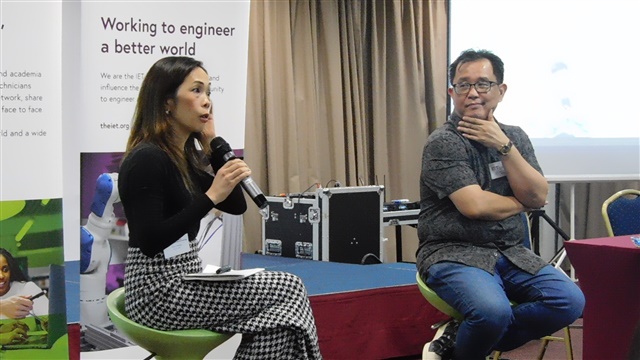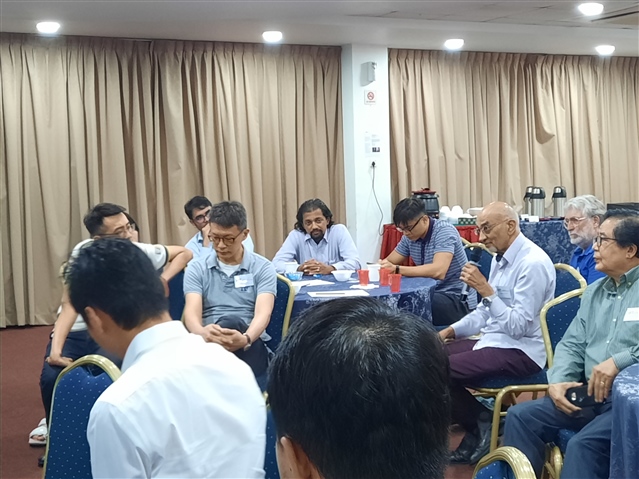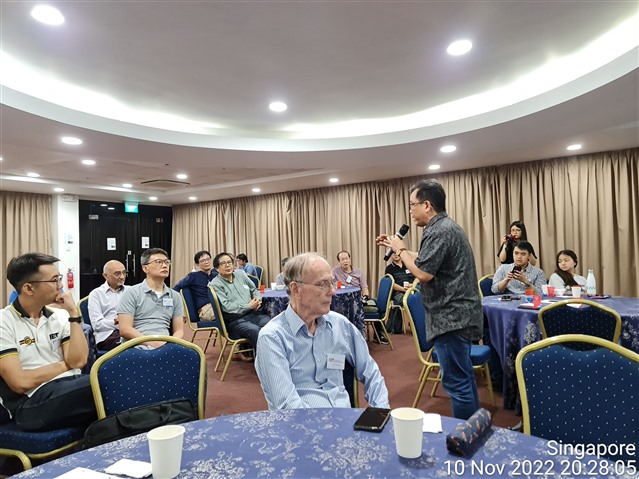 Date: 27/09/2022
Event: IET Singapore Network - Learning Journey to Art Science Museum
This learning journey will take members to a world of art, science, technology, magic and metaphor through a collection of digital interactive exhibitions.
Video: https://drive.google.com/file/d/1--p1hhmHkIMc-p5kFyftPjyuSgbJjf_m/view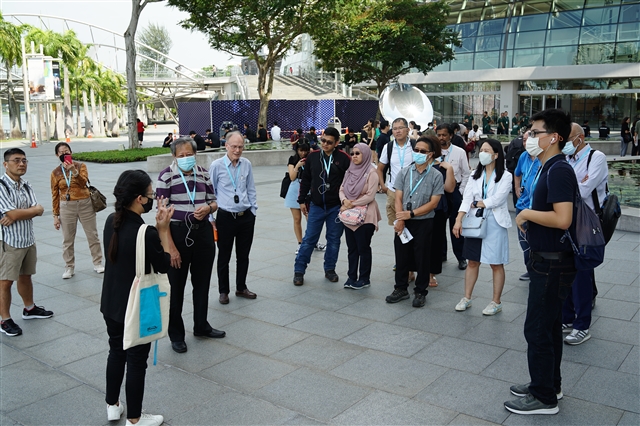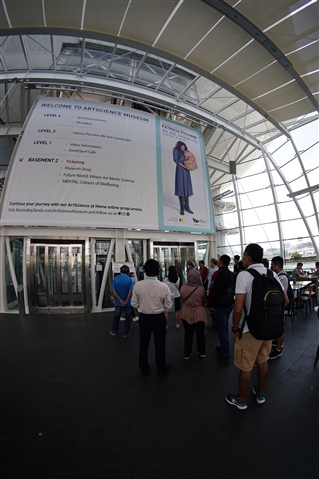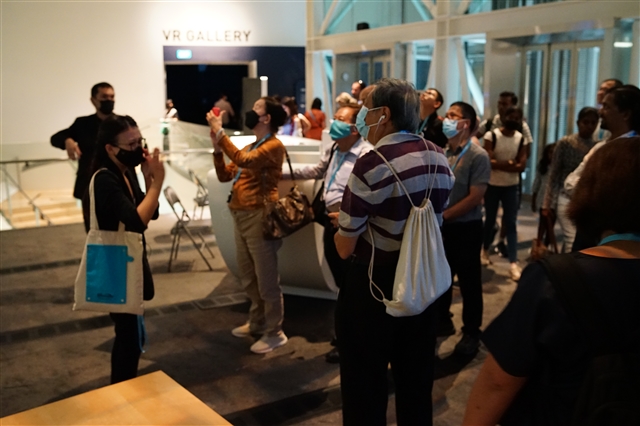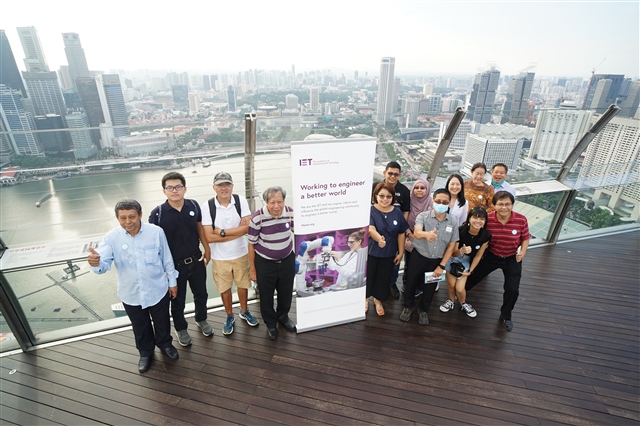 Date: 23/06/2022
Event: IET Singapore Local Network Annual General Meeting 2022 and Technical Talk
Speakers:
Mr Navjot Sawhney, Founder and CEO, Washing Machine Project

Ms Isabella Mascarenhas,

Vice President, Grass roots Education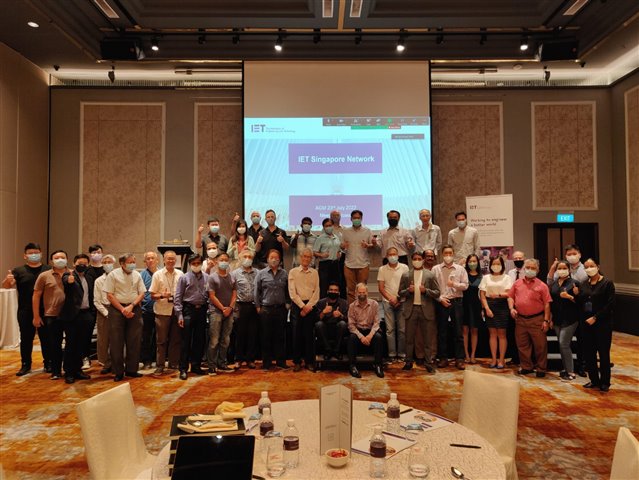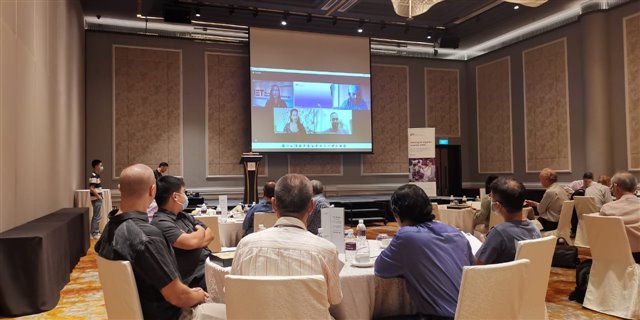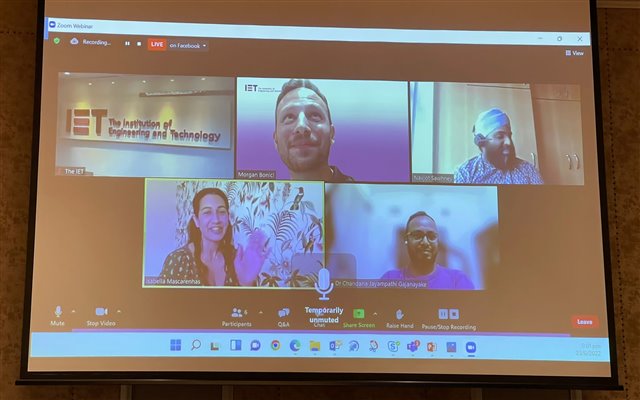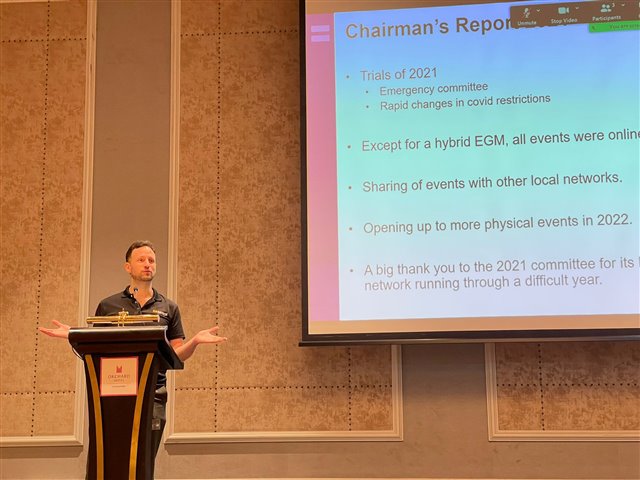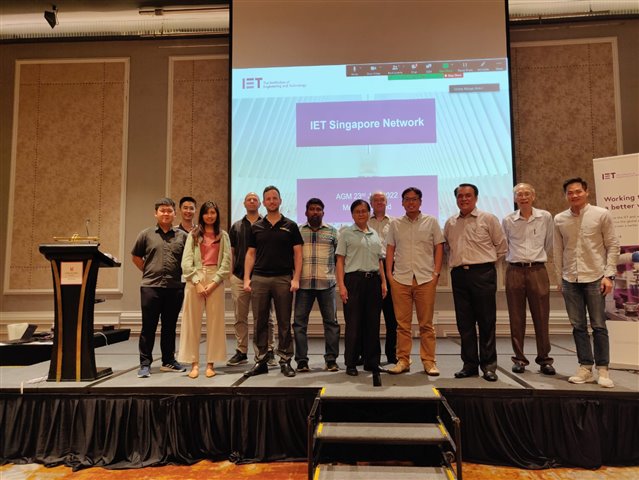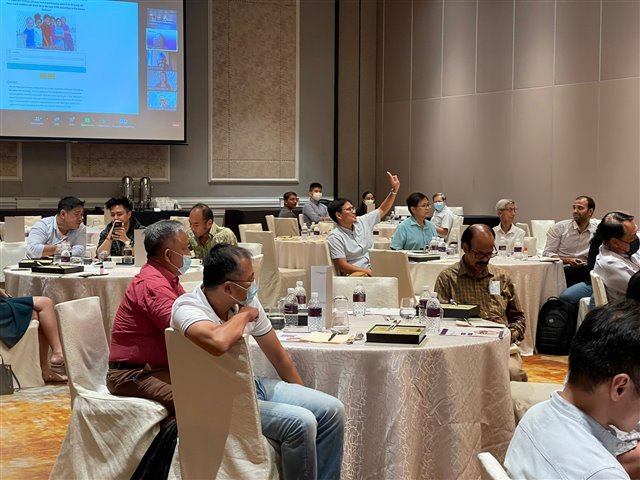 Date: 05/04/2022
Event: Getting Comfortable with being Uncomfortable – A Growth Mindset Workshop
Speaker: Mr Daniel Theyagu, Associate Adult Educator, Institute For Adult Learning Singapore