The Antennas and propagation Technical Network facilitates sharing and understanding of technical information and knowledge associated with Antennas and propagation for the benefit of IET members and the wider community. All of our events are open to the public and most are free of charge.
Committee members:
Dr Anil Shukla - Chair
Dr Rebecca Walton - Vice Chair
Professor Anthony Brown
Professor Costas Constantinou
Mr Darryl Smith
Dr Ivor Morrow
Dr John Batchelor
Dr Kenneth Lee Ford
Dr Michael Neve
Professor Michael Warrington
Dr Qammer Hussain Abbasi
Mr Richard Rudd
Professor Sana Salous
Professor Tian Loh
Dr Syeda Fizzah Jilani
Upcoming Events
The 11th Colloquium on Antennas, Wireless and Electromagnetics - CAWE – Sustainability
Date: 31st May 2023
Time: 09:00 – 17:00
Venue: School of Engineering, University of Edinburgh, Kings Buildings Campus
This one-day, free-to-attend event, brings together early career and experienced research scientists, engineers, and technologists from industry, Government and academia, to share, discuss and debate their latest technical knowledge about antennas, propagation and wireless and electromagnetics in an informal colloquium style event. The frequency bands of interest range from VLF to free space optics and radio applications ranging from underwater to space.
The colloquium will provide an opportunity for; early stage researchers (e.g. final year apprentices, new graduate, MSc and Phd researches) to gain presentation experience, provide an opportunity for experienced researchers to present early results, a forum to present new project that are just about to start as well as providing a networking opportunity.
Three key note presentations will be also be given :
" Generation After Next Communications systems for disaster relief" presented by Amy Baldwin Dstl
"Reconfigurable and upgradable satellites for sustainable space operations" presented by Prof Matthew Angling CTO In-Space Missions Ltd.
"Exploiting your Phd: create a roadmap !" presented by Dr Anil Shukla, Senior Fellow QinetiQ
Want to submit an abstract? Email yours to APTPN@ietvolunteer.org by 3 May 2023.
Please note – this event is designed to be presentations only, based on a short <300 word abstract, with a sentence highlighting how the work could contribute to sustainability and net zero targets. Up to 10 selected abstracts will then be asked to give a 10-minute presentation using a suggested template.
/cfs-file/__key/articles/aee386f114a84875ace919c6d9037ed1-a-b9a64fe867474352b5a4df2cd1fda69c/4073.11th-CAWE-Flyer_5F00_24032023.pdf
Critical Dates:
Abstracts received by 3rd May 2023
Authors notified by midday 10th May
Authors presentations received by IET by 24th May
Presentations given 31st May
Programme
/cfs-file/__key/articles/aee386f114a84875ace919c6d9037ed1-a-b9a64fe867474352b5a4df2cd1fda69c/1256.11th-CAWE-23-_2D00_-Edinburgh_5F00_programme_5F00_150523.pdf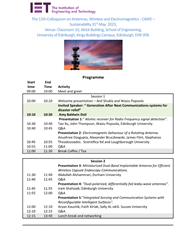 PDF