Communities Committee Americas (CCA) is delighted to announce Mohamed Abdelazez as this year's Americas PATW regional final winner, with Stephanie Bonvicini taking the runner-up prize.
Competitors travelled to Ottawa, ON, from across the region for the final which was organised by the IET's Ottawa Local Network. Described as the "closest PATW final to judge in recent years", the competition brought together six finalists from Vancouver, Calgary, Ottawa, Toronto, and Trinidad & Tobago; as well as the IET's first ever PATW online competition winner, Nabeel Mehdi who is based in America.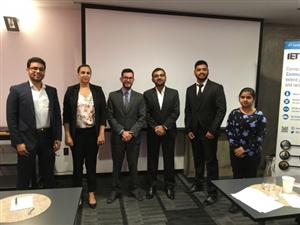 Winner Mohamed, a PhD student and a Vanier Scholar in the department of Systems and Computer Engineering at Carleton University, Ottawa, delivered his winning presentation on The Future of Person Identification in the Digital World. Realising that a multidisciplinary approach is key to delivering innovation in the medical field, he spends his spare time volunteering for Hacking Health Ottawa and the IEEE Engineering in Medicine and Biology Society at Carleton University. Mohamed will now go on to represent the Americas region at the PATW Global Final in London, UK in November.
Runner-up Stephanie travelled to the competition from Calgary, AB where she is a PhD candidate in Chemistry at the University of Calgary. Her presentation, Laser Dewetting: Making Tiny Particles for Big Change, focused on using pulsed laser dewetting to prepare bimetallic nanoparticles for future applications in fuel cells. Stephanie is Vice President Outreach for the University of Calgary's NanoGroup and she plans to pursue a career as a nanoscience professor.
The other competitors delivered presentations on a diverse range of topics, such as blockchain technology, the impact of wildfires on health, hybrid electric vehicles and go kart design and build. The aim of the PATW competition is to support 18-30-year-olds practice and hone their presentation skills, which are considered crucial in an ever-competitive job market; competitors are judged mainly on their presentation skills (70%), with the remaining marks coming from the work's technical content. After the event the competitors had an opportunity to meet local engineers and technicians before heading out for dinner to celebrate.
2018 Americas PATW Regional Final competitors
Stephanie Bonvicini, CPGCE, Calgary, Laser Dewetting: Making Tiny Particles for Big Change
Nabeel Mehdi, Online competitor, E-Mutiny: Decentralization & Accountability
Mohamed Abdelazez, Ottawa, The Future of Person Identification in the Digital World
Shefali Vishwakarma, Western Canada, Wildfires: Impact On Human Health And Surrounding
Diego Fernando Valencia Garcia, Toronto, Plug-in hybrid electric vehicles: The present step for a more-electrified future
Joshua Deonarinesingh, Trinidad and Tobago, Design and build of cadet class electric go kart for the Caribbean region
Please join us in congratulating all those who took part in the competition and wish Mohamed good luck for the next – and final - stage!