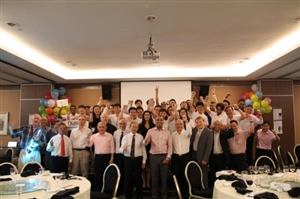 It's 1.23am in Singapore as i'm typing this but with the adrenaline rush still kicking in, I can say I'm all wide awake and excited to get this blog out as soon as possible. It's amazing how IET Singapore managed to be where it is today. Although I have only contributed 2 out of the 40 years of history, the giants who's shoulder i'm stepping on today have help me achieved more than I ever can.
As i reflect upon the many events, visits, policies, and legacy left behind by our pioneers, i feel that i need to contribute even more in order to make the dreams that were laid by them become a reality. The pioneers have put in their heart and soul into the IET to make the world a better place through engineering and we as the current batch of volunteers should now dream greater dreams having full faith that our legacy and dreams will be fulfiled by future generations.
For the celebration today, we aim to achieve quite a lot of things. First we want to ensure that everyone who pays for their tickets get more than what they give. Next we need to ensure that we have enough activites to keep everyone engaged and happy. In addition, we need to add in technical and engineering content to make sure that we are not just happy, but we learn something in the process as well. After that, we need to recognise the efforts of our volunteers and help them realise that the true meaning of volunteering is to when you see the smile in the face of the person you are interacting with.
Last but not least, we need to acknowledge the work of our pioneers and ensure that they feel appreciated and we care enough to act.
In order to achieve all these, we have to thank the amazing team of volunteers in IET Singapore that spend long hours beyond their working time and sacrificing their personal time for the good of IET Singapore. It's too long a list to acknowledge everyone here so do check out our facebook page
http://www.facebook.com/IETSG
for the latest information on the active volunteers in IET Singapore.
I would also like to take this opportunity to thank Dr Bicky Bhangu for his time, advises and mentorship that lead to a good programme for this evening that's satisfy the need of the whole range of members from students to young professionals to seniors and even pioneers. Yvonne our local network administrator is also someone we need to thank for being the unsung hero that quietly working in the background to ensure all action items get followed up and everything runs smoothly.I would also like to thank Isabella from YPCC who kindly grace our event with her persence and the launch of the lifeskills workshop. IET Singapore is proud to be the second network to launch the lifeskills workshop outside UK. Lastly, I would also like to give a shout out to my fellow teammates that makes the 40th anniversary celebrations a memorable experience for all that attended tonight.
Lastly, I would like to acknowledge the pioneers that shared their amazing stories with us tonight. They are Prof Er Meng Hwa, Prof Lock Kai Sang, Er Seow Tian Keng and Prof Brian Lee. Their stories and well wishes for the future generations will definitely be heard.
No blog post is complete without any photos. So feel free to headout to
twitter
to see some live photos of the event with hashtag
#ietsg40
(By YPS Chairman Tan Eng Hwa)