Phillip Vassar Hunter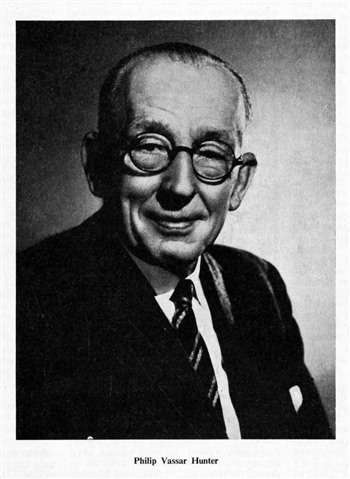 'An Electrical Engineer whose design and development work created a generic blueprint for HV cable design'
P V Hunter was the IEE's President in 1933 and was also made an Honorary Fellow of the IEE in 1951. The IEE recorded a film of him in 1951 and the film script reveals his experiences working in the Navy's Anti-Submarine Division in WWI. His story, extracted from that script, is as follows:
"During the latter part of the 1914-1918 war, I was loaned to the Naval Staff as Chief Engineer of the Experiments and Research Section of the Anti-Submarine Division, engaged on developing new methods and devices for anti-submarine warfare. Captain W W Fisher RN was Head of the Division and Professor W H Bragg was Chief Scientific Officer. We three formed a Committee under the Chairmanship of Captain Fisher, which controlled all new work in the development of anti-submarine warfare. I was soon satisfied that the only method likely to give positive results was the supersonic echo. This was being developed by a young Canadian physicist named Dr Boyle who had been a pupil of Rutherford at Montreal. His scheme was to utilise the pieso-electric effect of quartz to produce supersonic reflections from the hull of a submarine. This all seems quite commonplace now but in 1917 it was, even by skilled technicians and physicists, regarded as visionary and impracticable. However, Boyle stuck to his guns and I shall never forget the day when he took me on board his little pinnace [note: a pinnace is a ship's light boat propelled by oars or sails] in Harwich Harbour and, by means of lash-up equipment, obtained echoes from the submarines and destroyers lying at anchor there."
From joining the Merz & McLellan Company through to his influential time at the Callendar's Cable & Construction Company both as Chief Engineer and then as Deputy Chairman, Philip Vassar Hunter hugely contributed to the fundamental understanding of problems associated with power transmission culminating in the development of the first 132 kV gas filled cable. Along with his ground-breaking developments in cable design PV Hunter undertook research and lead in matters such as:
Improvements to the sensitivity of the Merz Price Protection System i.e. the Price Hunter System;
PING-Asdic, fundamental in the development of and subsequently awarded CBE in recognition;
Wrote a seminal paper with J.F. Watson entitled 'Dielectric disturbances in super tension multicore cables from thermal expansion of the conductors' postulating that thermal effects where a primary cause of breakdown in the then current 33 kV cable technology;
Researched resin oil impregnating compound insulations, how heat cycles created by the variable power loading cycles effected this dielectric;
President of the Institution of Electrical Engineers in 1933;
Magnetic mine sweeping, developed a semi submersible cable.
In recognition of his lifetime achievements British Insulated Callender's Cables (BICC formed by the merger of Callender's Cable & Construction Company Limited and British Insulated Cables) sponsored a Hunter Memorial Lecture. Over the last fifty plus years this prestigious lecture has being given annually by luminaries from the world of power engineering, each lecture reflecting on new developments in the science and field of power distribution.
The first lecture was given in 1958 by C.O. Boyce, entitled 'P V Hunter - Electrical Engineering in our Time'.
Moving onward and in a similar field to PV Hunter's interest area, the 1993 lecture was given by Professor W Toby Norris entitled 'Supertension Cables - the forward Drive'.