Croydon High School, in a remarkable partnership with the University of Bath and supported by experts Professor Cathryn Mitchell and Dr. Robert Watson, specialists in space and atmospheric physics, proudly announces the triumphant success of its Astrogazers project, which involved launching a weather balloon into space. This achievement underscores the school's unwavering commitment to STEAM education and the remarkable journey it has taken its students on.
"Mission Aspiration" was a dream realised for Arabi Karteepan, Head of Physics and Director of Astrogazers at Croydon High School. The mission involved a team of girls from Year 5 - 11 launching two meteorological balloons that ventured to an altitude of 32,380 metres. The balloons carried essential equipment, including cameras, data loggers, GPS trackers - designed to explore how different materials respond to atmospheric conditions.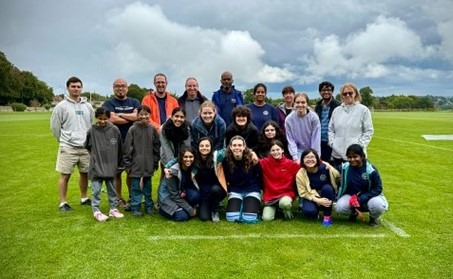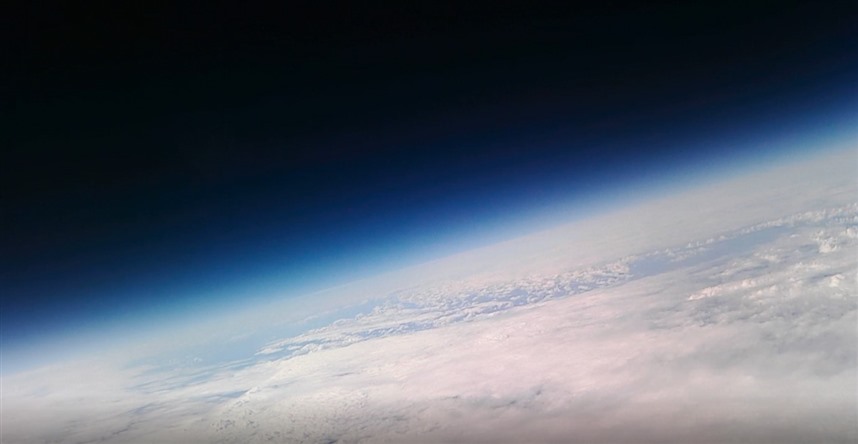 (The Astrogazers team and image taken from space)
The project received approval from the Civil Aviation Authority and was similar to those used by organisations like the Met Office, measuring several metres across.
The first launch took place on 30 June 2023, from the University of Bath campus, but was unsuccessful due to strong gusts of wind which led to a friction burn between the released cord and the parachute cord.
Undeterred by the launch failure of the 'generation 1' payload, the students of Croydon High School worked over their summer holidays to prepare for another launch with two 'generation 2' payloads being launched in September, each named after a pioneering female figure in Physics - Jocelyn Bell-Burnell and Helen Sharman. The payloads were named Sharman payload and Bell-Burnell payload.
On 12 September 2023 both generation 2 payloads successfully launched with the flight predictor indicating a course towards Oxford, while the GPS tracker provided real-time position updates every 3 minutes, confirming its journey towards South Oxfordshire.
As Bell-Burnell payload travelled towards Oxford, the Croydon High team contacted the local Post Office to obtain permission to enter the private land where Bell-Burnell payload had landed. Paul Harwood, who worked in the local Post office and is the editor of the village magazine said that it was the most exciting thing that had happened in the village in quite some time!
After the successful launch of Bell-Burnell payload, the two GPS trackers in Sharman payload failed to respond, but the team had a backup and were able to activate it with a reserve GPS tracker and attach it to the payload lid, leading to another successful launch. After nearly landing in the Thames, Sharman payload landed in privately owned Lock Wood Forest, where a Forest worker, Andy Bungay, contacted the team to tell them it had been spotted.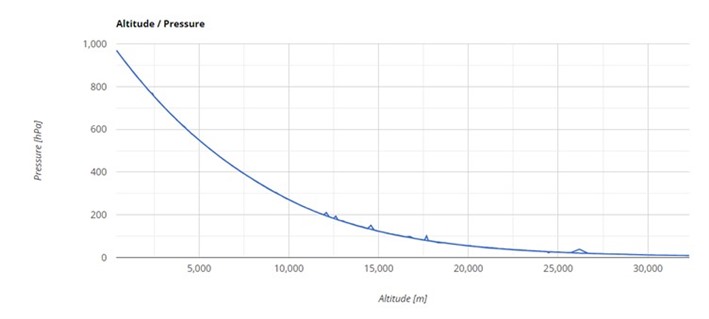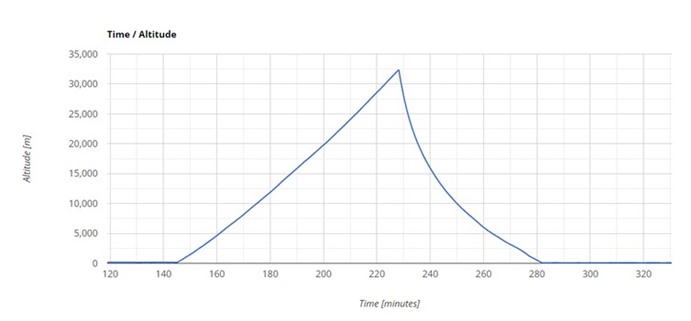 (Some of the data logged during the mission)
Arabi Karteepan, Head of Physics at Croydon High School for Girls, initiated the Astrogazers club in 2021 with the goal of inspiring girls to pursue their interests in physics, engineering, and space-related careers. Mrs. Karteepan's dedication to empowering young girls in these exciting fields shines through her leadership.
Mrs. Karteepan said, "I am incredibly passionate about providing girls with the resources, guidance, and encouragement they need to pursue their passion and excel in the exciting and impactful domains of physics, engineering, and beyond. This balloon launch project provides a unique opportunity for girls to work together on a large-scale, real-world project outside of the classroom. I believe that diversity of perspectives and skillsets is crucial to tackling complex problems, and I am proud to be a part of empowering girls to pursue their passions in physics and engineering."
Professor Mitchell, who played a pivotal role in the success of the project, expressed her enthusiasm, stating, "I've enjoyed a wonderful career as a physicist and engineer – I'm always very keen to encourage girls how interesting and challenging it can be to work in these areas, and that there shouldn't be barriers to doing so."
Mrs Anita Reeves, a parent at Croydon High School says: "What a fantastic achievement for the Astrogazers team and for Croydon High! It is truly pioneering and I have noticed it has sparked a lot of interest from the community, other schools, my family and friends, everyone has been talking about it! My daughter, Hollyann has been so inspired and animated and she has learnt so much. There have been so many elements to this project - team work, planning, researching, problem solving, communicating with each other, keeping calm under pressure, gaining confidence to speak in front of the camera etc....
You thought of everything – thank you for inviting the parents – at the first launch to stand back and watch your child be part of a well oiled machine was just magic – everything was labelled, procedure was followed, every child had a role....
When the pupils' first balloon dropped the payload, you took the girls off to regroup, instead of a disappointed Hollyann returning, she came back enthused and determined with answers - what went wrong, how can we address this and looking forward to the next launch - a great life lesson which the best of scientists experience.
Thank you very much. Hollyann has gained so much and I believe it has been one of those pivotal moments in life where she has been able to use her knowledge and passion of meteorology. Pupils and parents have fond memories of Astrogazers to treasure and carry with them."
The University of Bath supported this project through use of the campus facilities and with technical support from Clare Cambridge, Siva Sivaraya and Linden Weyer-Brown. It was also supported by the Royal Society and Spirent Communications through an Industry Fellowship.
For more information relating to the launch please contact the University of Bath press office at press@bath.ac.uk
For information relating to Croydon High School for Girls or the Astrogazers club, please contact marketingdept@cry.gdst.net
Croydon High School is an independent day school for girls aged 3-18, located in Selsdon, South Croydon. Established in 1874, the school is one of the original schools founded by the Girls' Day School Trust. Its first Headmistress, Miss Dorinda Neligan, served the school for 27 years and became a militant suffragette upon retiring. Croydon High retains the spirit of its first headmistress, with a deep-rooted sense of justice and equality of opportunity passed down through generations of Croydon High girls.
Croydon High is a dynamic and forward-thinking school with a strong emphasis on STEAM, working together to ensure their girls are real-world ready. Encouraging and empowering 'every girl, every day', girls are supported to break down any perceived barriers and to achieve their individual potential. Outstanding teaching, tailored pastoral care and a wide variety of co-curricular opportunities ensure that each individual girl is nurtured to achieve her best. https://www.croydonhigh.gdst.net/
You can see the Astrogazers social channels at https://www.instagram.com/_astrogazers_/ and https://www.youtube.com/@Astrogazers
The University of Bath is one of the UK's leading universities for high-impact research with a reputation for excellence in education, student experience and graduate prospects.
Named 'University of the Year' in The Times and The Sunday Times Good University Guide 2023, ranked 7th in the Guardian University Guide 2023 and 5th in the Complete University Guide 2024. Bath is rated in the world's top 10 universities for sport in the QS World University Ranking by Subject 2022. For graduate employability, Bath is in the world's top 100 universities according to the QS World University Rankings 2022. In the National Student Survey 2022, our overall student satisfaction was rated 10% above the national average and ranked in the UK's top 3: https://www.bath.ac.uk/corporate-information/rankings-and-reputation/
Research from Bath is also helping to change the world for the better. Across the University's three Faculties and School of Management, their research is making an impact in society, leading to low-carbon living, positive digital futures, and improved health and wellbeing. Find out all about 'Research with Impact': https://www.bath.ac.uk/campaigns/research-with-impact/.