EngX was launched in December 2021, the result of an IET staff and member collaboration to make it easy for engineers and technicians to connect with and support one another, and to access useful engineering information from trusted sources.
It's been such a busy year and I'm delighted to see that so many community members have enjoyed using the site. Thank you all for your support, enthusiasm, and feedback! In 2022 content on EngX had over 3 million views, and over 3000 new community members joined. We've also hosted over 15,000 discussion posts and replies and over 300 blog posts and comments.
I'm always interested in seeing what's popular in the community, and I was not surprised to see that the most discussed topic this year, Severe Tinnitus Following the Installation of New Electricity Meters, had over 130 replies in an effort to help the original poster. I was delighted to see that the poster had a positive, albeit very delayed, resolution with the replacement of his meter. He's clearly not the only person with this question, as the post received over 9000 views.
The most viewed discussion of the year is usually a bit of a surprise, and this year is no exception. Posted three years ago, 5 Second Disconnection Times was viewed over 12,000 times this year, and Pollution categories and their effects on EICR's is a close second with around 10,000 views.
EngX has functionality that allows community members to highlight responses to their questions that have been helpful, and it's gratifying to see it starting to be used. In the wiring regs forum especially, community members have been extremely supportive, with 91% of questions receiving a response within 24 hours, and 11% of questions having a reply marked 'helpful' within the same time frame. I really like this functionality as it's a nice way to thank contributors and has the potential to help others with similar questions find useful information.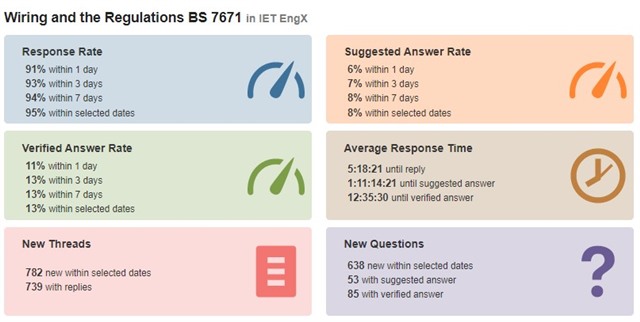 The language admins see is slightly different, 'verified answers' is called 'helpful answers' in EngX.
I can see lots of potential in the helpful answers functionality, combined with view counts, to help us identify information that visitors are looking for and make sure it's easy for them to access.
We have exciting plans for 2023, to make it easier for the huge numbers of EngX visitors to find answers to popular questions. We're also investigating ways of live-streaming events in EngX, and making it easier to use the most popular areas of the site, thanks to the feedback from our very helpful testers. If you'd like to be involved in testing, please let me know.
Is there something you'd like to know about the internal workings of EngX or our plans for 2023? Ask in the comments or drop a private message to any of the admin team, Lisa Miles, Elizabeth Morgan, or me. We'd love to hear from you.
Best wishes and Happy New Year!
Evanna